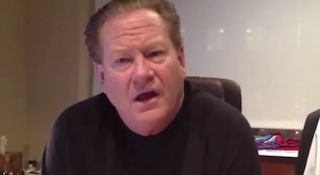 We already know how much trouble a singer can get in for just saying she likes Ron Paul, so what happens when a liberal firebrand has the gall to say Rick Santorum's oratorial skills rival President Obama's? That's what Ed Schultz is discovering this week. However, there is one big difference between Schultz and Kelly Clarkson.
…ok, there are a few big differences between the two. But, for the sake of this post, lets focus on one. Whereas Clarkson attempted to make peace with her Twitter attackers, Schultz recorded a video for his critics with one simple message; "Shut up!"
RELATED: Bill O'Reilly Grills Rick Santorum On Social Issues, 'Black People' Comment
Schultz had watched Santorum work the crowds in Iowa and was impressed with the GOP candidate's technique. During his Iowa coverage on The Ed Show, Schultz praised Santorum's ability to "look right at people" as he's talking and predicted he would win the caucus. This apparently was tantamount to treason in the eyes of some, forcing Schultz to make the video angrily explaining how one can think somebody talks nice without, y'know, actually liking them.
"Are we at the point now where, on The Ed Show, that I can't go out and do an objective story because there might be some people out there that think 'Oooh, Ed's a turncoat'? Y'know, come on. Is it under my skin? No. But I just want to set the record straight that you're totally wrong to the point where it's almost comical."
Schultz went on to argue that the ensuing fight between Santorum and Mitt Romney (with Newt Gingrich taking shots from the side), is "the best thing to happen to Barack Obama."
Watch the video below:
(h/t HuffPo)
Have a tip we should know? tips@mediaite.com