A 'Reasonable Hypothesis for Innocence': Prosecutors Confirm They Won't Bring Charges Against Lewandowski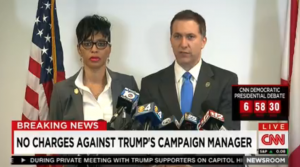 In a press conference from Palm Beach County, Florida, prosecutors confirmed Thursday afternoon that they will not prosecute Donald Trump's campaign manager in connection with his alleged manhandling of a former reporter for Breitbart.
The saga of Corey Lewandowski reached a critical point Wednesday night when it was reported that authorities would not move forward with Michelle Fields's attempts to take him to court for grabbing her arm at a recent Trump event. State attorney David Aronberg explained today that there might have been enough evidence to to charge Lewandowski, but not enough to establish a reasonable path to conviction.
Aronberg explained that the Jupiter Police Department acted on probable cause by bringing forth the initial arrest warrant, but that further video analysis and independent reviews did not reach the threshold for a good faith basis to proceed. Aronberg also established that it was highly likely that Lewandowski did, in fact, touch Fields, but it was legally plausible that he was assisting Secret Service agents to establish a "protective bubble" around a presidential candidate.
"Although these factors might undermine Mr. Lewandowski's potential defense, they do not outweigh the reasonable hypothesis of innocence based on the real-time facts and circumstances recorded on the video. As stated earlier, law enforcement arrests are based upon probable cause. State prosecution, however, relies upon a good faith basis that sufficient evidence exists to prove a case beyond a reasonable doubt. This includes consideration of any apparent defenses. Although the facts support the allegation that Mr. Lewandowski did grab Ms. Fields' arm against her will, Mr. Lewandowski has a reasonable hypothesis of innocence. There's insufficient evidence to rebut these defenses."
The Trump campaign released a statement on the decision soon after the press conference concluded:
Trump campaign: "Corey Lewandowski is gratified by the decision to drop the misdemeanor charge". pic.twitter.com/LxSEKjJOK0

— NBC Nightly News (@NBCNightlyNews) April 14, 2016
It is still unknown whether Fields will continue to move ahead with a new case against Lewandowski for defamation.
Watch above, via CNN.
[Image via screengrab]
— —
>> Follow Ken Meyer (@KenMeyer91) on Twitter
Have a tip we should know? tips@mediaite.com