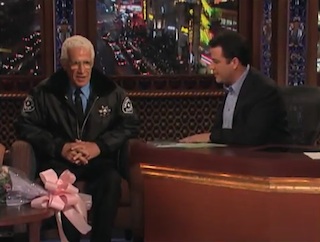 When you work the long hours of something like a TV show, the people you work with become your family. However, for Jimmy Kimmel, one of his regulars already was. For nearly nine years, fans of Jimmy Kimmel Live! were entertained by Kimmel's "crazy uncle" Frank Potenza, known to audiences simply as Uncle Frank. A month ago, Potenza died of cancer at the age of 77 and, last night, a tearful Kimmel presented a moving tribute to the man showing some of his best moments over the years.
Potenza was a former NYPD officer and was working as a security guard when Kimmel asked him to join the show in 2003. In the video, we see him telling the camera that he's "done more in these years fun-wise than I ever have in my life" and, judging by the clips of him chatting with Kermit the Frog, donning ridiculous costumes, and flirting with Meryl Streep, it definitely seems like he had a ball.
Kimmel introduced the clip as such:
"Uncle Frank loved being part of this show. And I wanna say thanks to my co-workers who talked to him and visited him and picked him up 12 hours early for work. He loved you. And thanks to all of you who came to the show and watched, for indulging me and letting me put my crazy uncle on television."
Watch the video from ABC below:
(h/t Splitsider)
UPDATE: Over at The Comic's Comic, there's clips of the rest of the episode, all dedicated to Uncle Frank. Of special interest is the 20 minute monologue/eulogy Kimmel opened the show with. Moving stuff.
Have a tip we should know? tips@mediaite.com