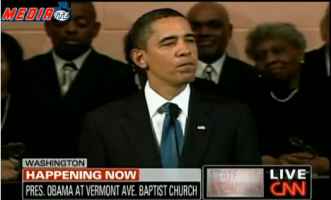 Despite appearances to the contrary, "there are times when I am not so calm," President Barack Obama said this morning at an African American congregation in Northwest Washington where Rev. Martin Luther King Jr. spoke on February 7, 1968. Today's largely personal speech during a session of Sunday worship, not coincidentally just before Martin Luther King Jr. Day, may signal a shift for Obama back to the impassioned and personal rhetoric we've come to expect from the president, as he admitted pain and impatience.
My wife knows," he continued. "There are times when progress seems too slow. There are times when the words that are spoken about me hurt. There are times when the barbs sting. There are times when it feels like all these efforts are for naught and change is so painfully slow in coming and I have to confront my own doubts.
"But let me tell you, it's faith that keeps me calm. It's faith that gives me peace."
This particular section of Obama's speech seems especially important at a time — one year into his presidency — where criticism has intensified and even supporters have begun to show signs of impatience, exemplified in slipping polls numbers and the media narrative of the impending midterm elections. Starting Tuesday in Massachusetts — with the contest for Ted Kennedy's Senate seat — Democrats could face a tough year, making governing even more difficult for the president.
The result may be President Obama at his fieriest — emotional, vulnerable and inspiring — in a way we haven't seen him since some crucial moments in the 2008 election. Is this a sign of things to come, rhetorically? See the clip for yourself:

Have a tip we should know? tips@mediaite.com