A World Divided: Ricky Gervais At Golden Globes: Sheer Brilliance, Or Career Suicide?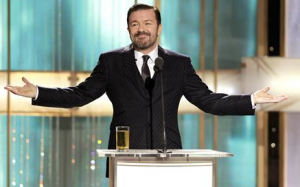 The world, on this MLK day, is starkly divided. It all comes down to one issue that has torn us into two camps: was Ricky Gervais amazing as MC of the Golden Globes, or was it a career-killing crash and burn?
At The Washington Post, Lisa De Moraes is part of Camp Major Meltdown, writing–apparently seriously–that the Globes "will go down in history for having brought Hollywood together in its hatred of host Ricky Gervais."

De Moraes suggests Gervais was so bad, and so offensive to Hollywood's elite, that last night's show was simply the event when "Gervais's career died."
Leading the charge for Camp Pure Brilliance is Tim Goodman, writing in The Hollywood Reporter, who notes that while last night may well be Gervais' last as Globes MC, he did exactly what he said he'd do ("I warned them," Gervais said) and exactly what the "sycophantic back-slapping" show needed: a fearless ego-bubble burster:
It made for compelling – if sometimes wince-inducing – television. Given the staid lameness of most awards shows – hello Emmys – at least he kept those who are not in the industry laughing uproariously.
Gervais took such obvious pleasure in deflating the massive egos on display in the ballroom that his sudden disappearance for an hour lit up the Twitterverse with conspiracy theories: had he been fired mid-show? Waterboarded backstage? As Xan Brooks writes in The Guardian this morning:
Even when Gervais eventually returned, observers noted that he seemed subdued, leading to suggestions that he had been asked to tone down his routine. According to CNN host Piers Morgan, Gervais looked "haunted". He vowed to ask the comedian: "What the hell did they do to you backstage?"
Of course, Gervais had not been beaten into submission, firing off his final shot in the show's last seconds–thanking God for making him an atheist–as the Golden Globes cameras rushed to pull away from the stage and onto the safety of a ballroom chandelier for a warm-and-fuzzy credit roll. Were they the last words of a man who will never work in that town again? Or a final shot for a guy who's now white hot?
Does insulting Angelina Jolie's poorly-reviewed movie and laughing at the most deserving of targets qualify as "going too far?" As Goodman points out:
But so what? The Globes are considered one of the best, if not the best, awards show on television because of this feeling that anything goes and champagne-fueled winners and presenters could say just about anything. Adding Gervais into the mix last year was exactly the kind of tone that seemed to fit the primetime party and as funny as he was this year, there's little doubt many in the industry will think he went too far.
If Robert De Niro and Robert Downey, Jr. have careers after their speeches, I imagine Ricky Gervais will do just fine. Especially since he did a comic's job: he tore into the massive culture of fake that surrounds the event, and exposed–shocker!–just how thin-skinned these people really are.
Watch Ricky Gervais' opening monologue here, from NBC:
Have a tip we should know? tips@mediaite.com