Aaron Sorkin does not think The Huffington Post "sucks." But if you caught an early version of a piece on Mother Jones' website today, you may have gotten that impression. The Newsroom showrunner spoke to MSNBC's Chris Matthews this afternoon in an attempt to clear up the headline writer's "lies."
Sorkin's actual comments about The Huffington Post, where he himself he been known to blog, came during preview showing and panel discussion in Washington, D.C. last night, co-hosted by HBO and The New Republic. According to Mother Jones' Asawin Suebsaeng, Sorkin called the website "a genuinely damaging force in our culture," criticizing it for "laughing at somebody else fail" and putting "an exclamation point after everything" instead of "just reporting on things that we need." His sentiments can be reflected in the way his fictional cable news team strives to produce a higher brand of journalism.
He did not object to the content of the story in Mother Jones, which he called a "terrific outlet," but rather the attention-grabbing headline. "I certainly did not say that" The Huffington Post "sucks," Sorkin told Matthews. "The headline writer didn't take me out of context. The headline writer didn't exaggerate. The headline writer lied." He said he wanted to make sure that Arianna Huffington and "everybody at the Huffington Oost knows that I did never and would never say that."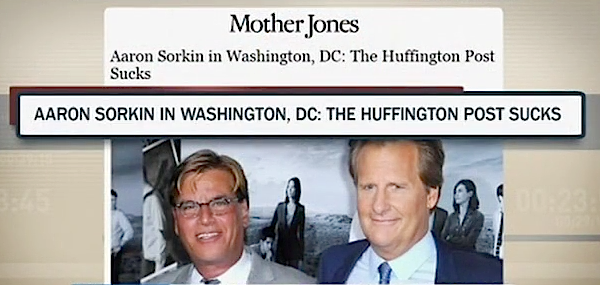 Mother Jones' headline, as it read before it was changed.
Mother Jones has since updated its headline to more generic-sounding, "Aaron Sorkin on 'The Newsroom,' Huffington Post, and Journalism Screw-Ups" with an editor's note at the bottom that reads, "The headline on this story has been changed to more clearly reflect Sorkin's comments about the press."
Watch video below, via MSNBC:
[photo via screengrab]
—
>> Follow Matt Wilstein (@TheMattWilstein) on Twitter
Have a tip we should know? tips@mediaite.com