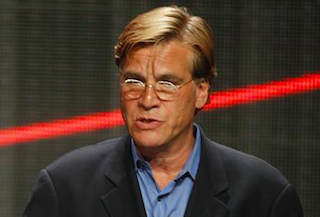 Over the past few years, writer Aaron Sorkin has taken a lot of heat from critics who don't think his most recent television show The Newsroom lives up to his past glories on The West Wing and Sports Night (let's not talk about Studio 60 on the Sunset Strip). Unlike his previous forays into television, Sorkin tried something new with The Newsroom by having his cable news characters react to real news stories from the recent past rather than invented scenarios.
Last night, during an event at the Tribeca Film Festival, Sorkin reportedly apologized to his fans for letting them down. "I'm going to let you all stand in for everyone in the world, if you don't mind. I think you and I got off on the wrong foot with The Newsroom and I apologize and I'd like to start over," Sorkin told the audience.
The showrunner was reacting to a question from former Obama speech writer Jon Favreau about what he's learned about the media through The Newsroom. "I think that there's been a terrible misunderstanding. I did not set the show in the recent past in order to show the pros how it should have been done," he said. "That was and remains the furthest thing from my mind. I set the show in the recent past because I didn't want to make up fake news. It was going to be weird if the world that these people were living in did not in any way resemble the world that you were living in."
Of course, in a show like The West Wing, Sorkin had a fictional president and cabinet staff reacting to "fake news," including pending wars with fake countries, in every episode. In its first season, The West Wing won more Emmy Awards than any debut show in history and over the course of five years ended up tying Hill Street Blues for most Emmys ever awarded to a drama series with 26.
"I wasn't trying to and I'm not capable of teaching a professional journalist a lesson," he added. "That wasn't my intent and it's never my intent to teach you a lesson or try to persuade you or anything."
Later, after an audience member asked Sorkin if he's happy with the series, he said, "I feel like I'm just now starting to learn how to write it. I've very proud of The Newsroom. I have the time of my life working with the people that I work with, but there is a learning curve and unfortunately, those lessons are learned in front of several million people."
Listen to audio of The Newsroom section from last night's event below, via WNYC:
[photo via Fred Prouser/Reuters]
— —
>> Follow Matt Wilstein (@TheMattWilstein) on Twitter
Have a tip we should know? tips@mediaite.com