ABC Accuses Obama Of Using "State Run Media," Rush Limbaugh Claims He Coined The Term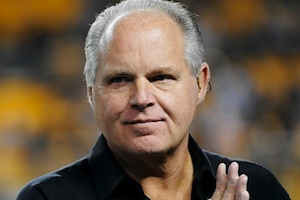 Rush Limbaugh just read saw the piece on ABC News entitled "Obama's Media Machine: State Run Media 2.0?" and he is not happy. No, it's not because of the content of the report (although I doubt he liked that), it's because he totally invented using the phrase "state run media" back in 2009. How dare they!
"When was it, Snerdley, that I first incorporated the phrase 'state-controlled, state-run media' on this program? It was shortly after Obama was immaculated, correct? It was even before the regime was immaculated? It was with Obama so it has to be… Yeah, it was 'drive-by media' but, at some point, it was just prior to the immaculation or just after, it was the term 'state-controlled media.' Which, as much of this program is the cutting edge of societal evolution stuff, well, guess what.

…

The headline for ABC's story is 'Obama's Media Machine: State Run Media 2.0.' Once again, ladies and gentlemen, it was I, El Rushbo. In fact, we have a sound bite from 2009, June the first, just to demonstrate how far ahead of the curve I am and you are if you listen to this program."
I'm going to assume Limbaugh is mostly kidding and not use a quick Google search to find the millions of times that phrase has been used even during this administration. However, if he's not kidding, well then he shouldn't feel too bad. Later in the segment he called MySpace "MyButt," which is brilliant. Sure, MySpace is basically only relevant to a handful of stand-up comics and garage bands at this point, but I'm sure "MyButt" is moments away from catching on.
Really, it's pretty fascinating that ABC would use that term in the first place, but this clip from Limbaugh's show is just plain funny. Check out the audio from the show below:
Have a tip we should know? tips@mediaite.com