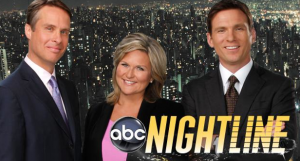 Nightline lives on, but it's about to become a shorter program. Starting February 4, the long-running late night news show will end at midnight instead of 12:05 a.m., so that Jimmy Kimmel Live can get an earlier start. It also allows ABC to sell additional advertising time on Kimmel, which keeps its current out-time of 1:05 in addition to the earlier start.

ABC News president Ben Sherwood made the announcement this afternoon with a memo to staff, emphasizing that Nightline, which has been threatened from time to time by the possibility of cancellation in favor of late night comedy, would remain in its traditional timeslot starting at 11:35 p.m.:
First and foremost, today ABC has definitively answered one of the recurring questions about Nightline and ABC News: The company firmly believes Nightline is a vital part of its successful late night strategy and Nightline will anchor the schedule at 11:35 PM. Period.

Last year, ABC told Jimmy Kimmel that he would get a new start time – moving to midnight effective February 4, 2011. Obviously, this fact will move up Nightline's out-time. Both Nightline and Kimmel are valuable franchises for ABC for different reasons, and in discussing the shift, Anne Sweeney told me: "This is a strategic move that better leverages the strength and value of both Nightline and Jimmy Kimmel Live for our network. The midnight start for Kimmel keeps Nightline where it is, anchoring our late night lineup –where it regularly beats the competition— and gives Jimmy the chance to leverage that strong lead-in more effectively with a quicker connection to late night viewers, which will help him build on the great momentum his show has experienced over the past year."

James Goldston and I have discussed this change and he is developing a new format to maximize the amount of Nightline's editorial content and minimize the disruption to our program. I've seen initial plans and can assure you that our audience shouldn't notice any change to this powerful, proven and successful show.
Sherwood says Nightline will be given thirteen hours of primetime programming for specials and expanded coverage through 2011.
Have a tip we should know? tips@mediaite.com