ABC Issues Written Apology Four Years After Airing Misleading John Stossel Segment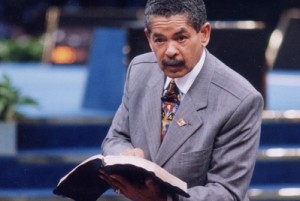 In March of 2007, ABC series 20/20 and Good Morning America aired a video in a segment [Ed. note: hosted, as the title describes, by John Stossel] – titled "Enough!" – about whether certain ministry leaders were using money from congregants to support their lavish lifestyles. A portion of the video showed Dr. Frederick K.C. Price, founder of the Crenshaw Christian Center, claiming that "I live in a 25-room mansion, I have my own $6-million yacht, I have my own private jet and I have my own helicopter and I have seven luxury automobiles."
It made for a compelling story: After all, who does this supposed man of God think he is, spending Church money on ludicrously expensive, flashy, superfluous material things? Gather your pitchforks! …Problem is, Price had been giving a hypothetical example as part of a sermon; he doesn't actually own a yacht or private jet, and wasn't saying that he did.
Now, over four years after that misleading video initially aired, ABC is offering a written apology:
ABC News apologizes for any harm caused to you as a result of its broadcast of a video clip that ABC News stated was of you speaking about yourself when in fact you were talking about a hypothetical person. ABC News regrets that it did not conduct sufficient investigation of the clip after receiving it to establish its correct context. By presenting the footage out of context, ABC News misled its audience and failed to meet its own standards, which ABC deeply regrets.
This apology, according to a source, was required as part of a "recent legal settlement between ABC News and Price." In 2007, the network did indeed apologize on air. Good Friday indeed.
h/t LA Times
Have a tip we should know? tips@mediaite.com