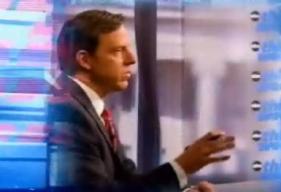 As we reported yesterday, the Jake Tapper interim-helmed iteration of ABC News' This Week scored a decisive victory in the advertiser-coveted 25-54 demographic, besting Meet the Press by 60,000. Since Tapper is set to hand This Week's reins over to Christiane Amanpour in August, now is the perfect time for ABC to prepare a place for Tapper to continue his innovative Sunday run: his own show.
Tapper's demo victory (which I predicted long ago) is the culmination of a series of much-needed innovations to the stale Sunday morning format. Aside from his existing new media following (by virtue of his must-read Twitter feed and superb Political Punch blog), Tapper has leveraged his new media savvy by adding live-tweeting and a buzzed-about fact-checking partnership with Politifact. While it's unclear whether Amanpour's show will retain these features, a new show would allow for even more fresh ideas. It would also give Tapper plenty of time to fulfill Mediaite's wish list.
Jake Tapper's audience grew up spending their Saturday mornings watching their favorite bloc of cartoons, and that model could succeed for Sunday mornings, too. His show could be a Scooby's Laff-a-lympics to Amanpour's more internationally flavored Wacky Races. As a lead-out to This Week, the show would presumably start with a decent built-in audience, which Tapper has proven he can build on.
A brand new show would be a blank slate, allowing it to diverge wildly from the established Sunday talk format. I'm sure Tapper has better ideas than I do, but one suggestion I would make would be to eliminate the talking-point-laden newsmaker segments, and have those same guests engage the panel, instead. Can you imagine Rahm Emanuel, for example, mixing it up with Markos Moulitsas and Tucker Carlson?
The fact-checking feature could even be done on the fly, with a crapometer set up for each guest, allowing on-the-spot challenges. There could also be a stepped-up interactive quotient, perhaps by displaying a Twitter hashtag search during the show, and culling topics from it occasionally.
Even without huge ratings, such a show would undoubtedly be influential, and could also serve as an R&D lab for the old media to transition to the new.
Have a tip we should know? tips@mediaite.com