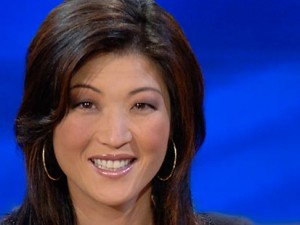 Of the series of changes slated to take place at ABC News by the end of the week, it appears a couple decisions are clearer now. Juju Chang is in line to take over as the news anchor on Good Morning America, while Chris Cuomo, who currently has the job, is in talks to be a co-anchor on 20/20, along with Elizabeth Vargas.
TVNewser reports Chang was chosen after a test with Robin Roberts and George Stephanopoulos, who is the favorite for the lead GMA anchor job: "They felt that she had a certain chemistry with George and Robin. In the end it basically came down to chemistry."
The Los Angeles Times reports Cuomo and ABC "are in 'very active discussions' with him about co-anchoring the newsmagazine '20/20′ and getting an expanded reporting role across the news division." A person with knowledge of the situation confirms both reports to Mediaite.
This still leaves open the question of who will take over for Sawyer on GMA, with Stephanopoulos being the most likely choice. With Sawyer's last day coming Friday, we should know for sure by the end of the week.
If Stephanopoulos gets the job, the next question will be who takes over for him at This Week. We've reported a likely candidate is Terry Moran. Of course, if it's Moran, ABC will have to announce what will happen to his vacant anchor seat at Nightline. Other options at This Week could be White House correspondent Jake Tapper (who won TVNewser's poll) and Gwen Ifill, who was a possibility floated for the other recent Sunday morning opening, at Meet the Press.
—–
» Follow Steve Krakauer on Twitter
Have a tip we should know? tips@mediaite.com