ABC News Boss "Laughs Off" Attack Video Created By Self-Described "ABC Staffers"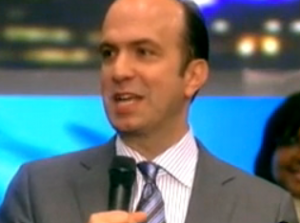 If a video posted to Vimeo is to be believed, there are some insiders at ABC News who don't really care very much for newly-named boss Ben Sherwood, described in the video as "the Draco Malfoy of Broadcast News."
The video–essentially a copy of Sherwood's speech to ABC News staff upon his announcement as the replacement for David Westin–comes complete with withering commentary coming in the form of titles superimposed on the screen, such as noting that under Sherwood's tenure at Good Morning America, the show "lost a million viewers."

In other parts, the attacks are far more personal, saying he has "no strategy other than piggybacking on the success of Desperate Housewives" and saying Sherwood "was deeply unpopular with the GMA staff" and is "well known for a 'kiss up/kick down' approach to management."
It's not known who created the video, entitled Ben Sherwood: The Movie by a Vimeo account holder using the name of legendary ABC boss Roone Arledge. Gawker reports the creators of the video identified themselves–anonymously–as staffers at ABC News. ABC News spokespeople have not commented, but The Hollywood Reporter's Lindsay Powers reports an "ABC insider" dismisses the idea anybody inside the news division put the video together:
"Ben laughed it off," a network insider tells The Hollywood Reporter. "In this age, in this business, these kinds of things are to be expected." The insider jokes that it seemed unlikely the video was made by current staffers "given how poorly it was produced and how tenuous its relationship with the truth was." "We think the people who work here are much more talented and creative," snipes the source.
Welcome back to ABC, Ben.
Watch the video here, found on Vimeo:
Have a tip we should know? tips@mediaite.com