ABC News Discovers Some GOP 2012 Candidates Use Foreign-Made Campaign T-Shirts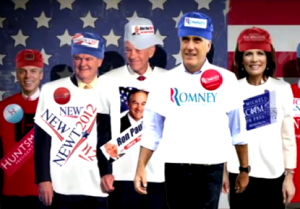 In the crowded field of Republican presidential contenders, each candidate is struggling to get mainstream media attention. Yet it's likely the candidates featured in this ABC news report are not happy with this spotlight. Apparently four of the eight GOP candidates are selling campaign merchandise made from overseas, a slap in the face to the frequent Republican rhetoric of needing more American jobs.
Some candidates practice what they preach, as Mitt Romney, Michele Bachmann, Jon Huntsman, Tim Pawlenty and even President Obama's re-election team, all have t-shirts "Made in America." However, second-tier candidates (who are also more likely to be cash-strapped) like Herman Cain, Newt Gingrich, Ron Paul and Rick Santorum had t-shirts coming from Honduras, El Salvador and the Dominican Republic. When confronted about their indiscretions, the candidates had a unique response which actually provides some insight into the personality of each.
Gingrich holding up a foreign-made T-Shirt admitted "I didn't order it and I don't do it," and his campaign staff later stated that the foreign shirts were the result of a "rush order," but that in the future all products will be made in America. Cain somewhat humorously replied "I wasn't aware that [the shirt] was made in Honduras, I was just aware that it was Fruit of the Loom," and later his campaign disposed of the foreign made shirts. Santorum and Paul however, were less eager to admit any wrongdoing. Santorum suggested "it's tragic that so many products in this country are made outside of this country" and his campaign did not specific what their policy for future t-shirts will be. And Paul was completely unapologetic, responding "I wasn't aware [my shirts were made overseas], but I wouldn't change it. I would argue the case that the market should determine it." Next up, time to investigate where those campaign buttons are coming from!
Watch the clip from ABC below:

Have a tip we should know? [email protected]