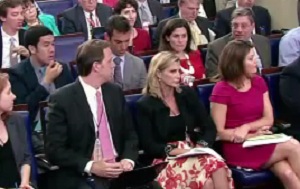 The United States' use of drone strikes in the Middle East, already a hotly-debated topic, was the subject of a round of tough questions from ABC News' Jake Tapper at Tuesday's White House Daily Press Briefing, pegged to the reported killing of al Qaeda #2 (the worst job since Spinal Tap drummer) Abu Yahya al-Libi. As Tapper zeroed in on Press Secretary Jay Carney with some quick follow-ups, however, he was interrupted by CBS News Radio's Peter Maer, who wanted to razz him for asking too many questions.
Tapper began by asking whether Carney knew if the strike that dropped the al Qaeda deuce had killed anyone else, and Carney tried to ward off several of Tapper's questions on grounds of operational secrecy, referring him to "other agencies."
Tapper then pivoted to the issue of what type of precedent these strikes are setting. "It's not difficult to foresee a world in which the United States is not the only country with this kind of technology," Tapper asked. "Is the administration at all concerned about the precedent being set in terms of secrecy, in terms of operating military craft in other sovereign nations, and what we might see as a result when China or Russia get their hands on drones?"
"Again," Carney replied, "I can't discuss methods from here, and I do not — I won't discuss –"
" I wasn't asking you to," Tapper interjected.
"Well, this is in relation, obviously, to the particular incident that we've been discussing, and I can't get into details about al-Libi's death, the circumstances or the location." Carney replied.
"I would simply say," he continued, "that this President is firmly committed to carrying out his policy objective in Afghanistan and in the Afghanistan-Pakistan region, which is to disrupt, dismantle and ultimately defeat al Qaeda. He is committed to disrupting, dismantling and ultimately defeating al Qaeda beyond that region, too. That's why we cooperate with countries around the world in efforts to counter al Qaeda and other extremists."
Tapper tried again. "Not relating this question to the death of al-Libi," he said, t"he United States has this technology; President Obama has said that the administration should be more transparent about it. Is there not any concern that the administration has that there is precedent being set? We've just heard Assad this week blame the massacre that took place in Houla on terrorists. Any country can say that –"
"And I heard a collective rolling of the eyes," Carney said, "or saw a collective rolling of the eyes around the globe because everyone knows how preposterous that assertion is."
" That's my point," Tapper responded. "And countries claim terrorism as a justification for their actions all the time. Even positing that the United States, under any President, only acts righteously every time, is there not any concern that a precedent is being set either for some future dangerous President and for any other –"
Carney touched on the need for secrecy again, saying "Jake, without getting into very sensitive issues that go to the core of our national security interests, I can simply say that this President, this Commander-in-Chief, puts a great deal of thought and care into the prosecution of and implementation of the policy decisions he makes, and that includes in the effort to combat al Qaeda in the Af-Pak region and around the world."
As Tapper tried to ask another followup, he heard some grumbling in the row behind him. He turned and said, "I'm sorry?"
CBS News Radio's Peter Maer leaned toward him and said, "I'm just wondering how many questions — I mean, maybe you should have like an interview with him somewhere."
After an uncomfortable pause, and an icy stare from Tapper, Maer said, "Go ahead."
"Do you mind if I continue?" Tapper asked.
"Go right ahead." Maer said.
"I'm just wondering what the — where the moral foundation comes from if the United States objects in the future to an action being taken by China or Russia along these same lines," Tapper asked Carney.
"Well, I reject the comparison," Carney replied, "but I would simply say that, as I said just now, that this President, this administration takes very seriously the decisions that are involved in the effort to disrupt, dismantle and defeat al Qaeda. But this President is absolutely committed to that objective. As Commander-in-Chief, as President, protection of the United States, protection of American citizens, protection of our allies and our interests are a high priority — the highest. And that will be the case as long as he's in office."
It was a crackling exchange about a life-and-death issue that has far-reaching implications, interrupted by some misplaced inside baseball. Grousing about question-hogging isn't new, but it's rarely done out loud during a briefing, and usually, there's at least some merit to it. Tapper wasn't asking 12 questions that someone else had already asked (which is, I believe, the record), he was on his fourth follow-up about an issue that's getting precious little sunlight.
Here's the clip, via The White House:
Follow Tommy Christopher (@TommyXtopher) on Twitter.
Have a tip we should know? tips@mediaite.com