ABC News' Jon Karl Asks Ted Cruz 'How Much do Your Colleagues Just Despise You Right Now'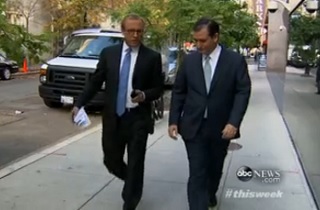 With the government shutdown at an end, the political media has turned to assessing the political standing of the various players in its wake, and the muscle behind the defund Obamacare strategy, Sen. Ted Cruz (R-TX) is at the center of much of that coverage. In an interview for This Week with George Stephanopoulos, ABC News Chief White House Correspondent Jon Karl put a fine point on Cruz's post-shutdown standing, then twisted it.
In the bulk of an interview previewed earlier this week, Cruz defended himself from the charge that he had caused the shutdown. When Karl insisted that "there never would have been a shutdown if you hadn't gone with this strategy of saying, 'we're not going to even fund the government for six weeks unless we can defund Obamacare," Cruz reasoned that "There never would have been a shutdown if Harry Reid and President Obama hadn't said, 'We will not compromise. We will not negotiate. Shut the government down.'"
Switching gears, Karl asked "How much do your colleagues just despise you right now on the floor?"
Cruz replied, "There's an old saying that 'Politics, it ain't beanbag.' And, you know, I'm not serving in office because I desperately needed 99 new friends in the US Senate, Given the choice between being reviled in Washington, DC, and appreciated in Texas, or reviled in Texas and appreciated in Washington, I would take the former 100 out of 100 times."
Karl then asked Cruz about his complaint that Senate Republicans attacked House Republicans over the strategy. "I think that was unfortunate," Cruz said. "I think it was unfortunate that you saw multiple members of the Senate Republicans going on television attacking House conservatives, attacking the effort to defund Obamacare, saying it cannot win it's a fools error and we will lose this must fail. That is a recipe for losing the fight, and it's a shame."
Finally, Karl asked what Americans can expect from Cruz when the deal to reopen the givernment runs out in a few months. "What next?" he asked. "We have another deadline, government funding runs out on January 15th. Will you rule out pushing to the brink of another shutdown by saying you would block funding for the government unless Obamacare is defunded, will you do that again?"
"I would do anything," Cruz said, "and I will continue to do anything I can to stop the train wreck that is Obamacare. What I intend to do is continue standing with the American people to work to stop Obamacare, because it isn't working, it's costing people's jobs, and it's taking away their healthcare."
Although Karl claimed, earlier in the interview, that public opinion was not with Cruz on the shutdown strategy, he declined to challenge Cruz's closing claim that he's standing with the American people to work to stop Obamacare."
On that specific, measurable claim, public opinion has consistently shown that despite low approval for the law, less than 40% of Americans favor repealing the Affordable Care Act.
Here's the clip, from ABC News' This Week:
Have a tip we should know? tips@mediaite.com