ABC News President Apologizes For Brian Ross' Aurora Shooter-Tea Party Report
ABC News Pres. Apologizes For Brian Ross' CO Shooter-Tea Party Report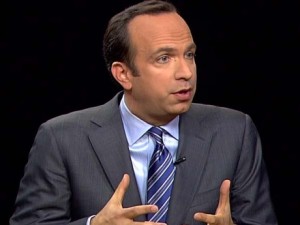 The major broadcast networks have been making the rounds at the Television Critics Association press tour this week to promote their fall shows, and today it was ABC's turn. ABC News president Ben Sherwood took some time out to address Brian Ross's report last week in the immediate aftermath of the Colorado shooting that the alleged shooter had Tea Party connections. Sherwood said that the network had aired something it had not fully vetted the facts of, and apologized for the "unfortunate mistake."
RELATED: Jon Stewart Tears Apart ABC's Brian Ross For False Tea Party Report On Aurora Shooter
Sherwood told reporters at the TCA event that the erroneous report "did not live up to the standards and practices of ABC News" and apologized for Ross reading it on the air.
"We put something on the air that we did not know to be true and the part that we needed to be true was not germane to the story we were covering," Sherwood told reporters at the semiannual Television Critics Assn. press tour in Beverly Hills. "This was an unfortunate mistake," he said, adding that the network was taking steps to make sure it does not happen again, although he declined to say specifically what those steps were.

"Good Morning America" anchor George Stephanopoulos, who was chatting with Ross on the network when the reporter speculated about Holmes' political affiliation, said he was sorry about the mistake.

"This was a breaking news situation and people are going to make mistakes," Stephanopoulos said via satellite to reporters.
However, Sherwood firmly stood by the network's report on how James Holmes' mother reacted when called by an ABC News reporter, and defended the producer who spoke to her.
h/t LA Times
—–
Follow Josh Feldman on Twitter: @feldmaniac
Have a tip we should know? [email protected]
Josh Feldman - Senior Editor