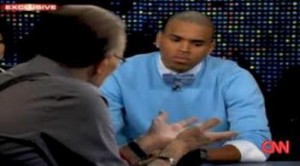 Adam Lambert's appearance on ABC's Good Morning America this week was canceled after concerns about "airing a similar concert [to his AMA performance] so early in the morning."
Now news of another ABC celebrity booking comes out – ABC's 20/20 will air a Chris Brown interview next month.
TVNewser reports the interview was taped last weekend, and the Robin Roberts sit-down will air on December 11 in full, with clips airing on GMA earlier in the week.
There is clearly no direct correlation between the Lambert cancellation and the Brown booking, but the juxtaposition may raise concerns for those who were angered by ABC's Lambert decision. ABC would have given Lambert a platform to perform again, and would also have gotten the attention-getting post-interview. Instead, that went to CBS, who picked up after ABC canceled, and the performance proved to be rather mild.
Meanwhile Brown, who pleaded guilty to assault of Rihanna, his girlfriend at the time, has done several interviews, going back to one with Larry King on CNN in August. This interview with Roberts will likely touch on the same themes. But it also provides a platform for Brown to talk comeback – and his new CD. It gets released a few days after the 20/20 interview airs.
Is it fair to compare the two situations? Maybe. The New York Post quotes an ABC source who says "the network is giving a mixed message," while another insider says it is still being determined whether Brown will get to perform a song. But Lambert will be back on ABC again soon as well, as part of Barbara Walters' "Most Fascinating People" special.
On somewhat of a tangent, check out the only real way Brown can make his comeback – with his first big single and unique video for "Transform Ya":


—–
» Follow Steve Krakauer on Twitter
Have a tip we should know? [email protected]