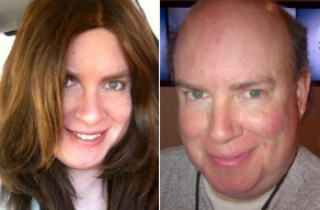 In May we reported that ABC News editor Don Ennis walked into his New York City office wearing a small black dress and a brunette wig and told his coworkers that he is legally changing his name to Dawn Stacey Ennis. Several months later, it turns out, Ennis has decided he no longer wants to be a woman.
Back then, Ennis, 49, wrote to his colleagues: "This is not a game of dress-up, or make-believe. It is my affirmation of who I now am and what I must do to be happy, in response to a soul-crushing secret that my wife and I have been dealing with for more than seven years, mostly in secret." But late last week, in an email to colleagues, Ennis revealed that a two-day bout with "transient global amnesia" has revealed to him that he is not actually transgender.
The New York Post excerpted bits from the new letter, which Ennis titled "Not Reportable, Very Confirmed":
"I accused my wife of playing some kind of cruel joke, dressing me up in a wig and bra and making fake ID's with the name 'Dawn' on it. Seriously […]

"It became obvious this was not the case once I took off the bra — and discovered two reasons I was wearing one," he said, referring to his hormone-induced breasts.

"I thought it was 1999 … and I was sure as hell that I was a man […]

"Fortunately, my memories of the last 14 years have since returned. But what did not return was my identity as Dawn," said Ennis, who had been wearing lipstick, skirts and heels.

"I am writing to let you know I'm changing my name … to Don Ennis. That will be my name again, now and forever. And it appears I'm not transgender after all.

"I have retained the much different mind-set I had in 1999: I am now totally, completely, unabashedly male in my mind, despite my physical attributes," he said.

"I'm asking all of you who accepted me as a transgender to now understand: I was misdiagnosed.

"I am already using the men's room and dressing accordingly […]

"It's so odd to be experiencing this from the other side; as recently as last Friday, I felt I was indeed a woman, in my mind, body and soul.

"Even though I will not wear the wig or the makeup or the skirts again, I promise to remain a strong straight ally, a supporter of diversity and an advocate for equal rights and other LGBT issues including same-sex marriage."
Upon becoming a woman, Ennis had told his friends and family that, as a child, his mother gave him female hormones to prolong an acting career, leading to a development of breasts. After changing his identity to female, Ennis reportedly went to the National Institute of Health in Bethesda, Md., to undergo testing to understand the gender change. It was there that he learned he was suffering from a hormone imbalance that was fixable.
A week after discharge, Ennis' wife brought him back to the hospital when it seemed he was suffering a "seizure" and "drastic memory loss." After completing the full circle of gender identity, Ennis said he feels "fantastic" as a man, and hopes he will only feel better after more hormonal treatment.
[h/t FTVLive]
— —
>> Follow Andrew Kirell (@AndrewKirell) on Twitter
Have a tip we should know? [email protected]