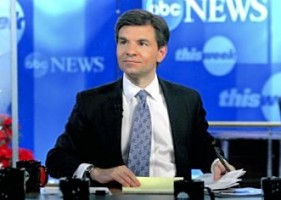 The Washington Post is reporting that This Week host George Stephanopolous has been offered the highly visible position of co-hosting "Good Morning America." A source tells Mediaite that the offer was made at least a week ago, raising questions about why this story broke now. Even more curious is the report that Stephanopoulos was only asked, not that he accepted the gig. One wonders if this still leaves open the possibility for Chris Cuomo to get the spot.
As Mediaite has previously reported Stephanopoulos would have to vacate the This Week job if he takes the GMA anchor spot, perhaps a deal breaker in the eyes of Stephanopolous, who came up inside the beltway as a former White House staffer under the Clinton administration.
BREAKING: THE WASHINGTON POST FIRST TO REPORT that ABC has offered George Stephanopoulos the coveted job of co-hosting "Good Morning America," and intensive negotiations are under way, sources familiar with the situation said Thursday.

While the network's chief Washington correspondent has not yet accepted the job, he was in New York this week, as was Anne Sweeney, president of the Disney-ABC Television Group. The talks with Stephanopoulos have involved not just the level of multimillion-dollar compensation but the details of his duties if he replaces Diane Sawyer.

In a sign that ABC executives are looking toward a future with Stephanopoulos, they have been talking to the other contender, "GMA" news anchor Chris Cuomo, about new opportunities at the network if Stephanopoulos accepts the job. Cuomo, an alternative choice if the talks with Stephanopoulos break down, is being courted by other networks. Executives are also considering candidates to replace Cuomo in the news reader's job on the assumption that he will probably leave the show.
Have a tip we should know? tips@mediaite.com