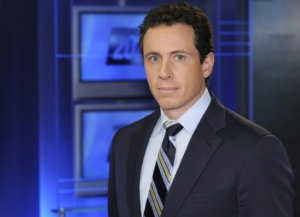 The changes at CNN continue. Chris Cuomo, co-anchor of ABC News' 20/20, is jumping over to CNN, TMZ was the first to report.
Cuomo will host a morning show, possibly alongside Erin Burnett, who anchors CNN's 7 p.m. hour. TMZ notes that is "interesting, because we're told Erin's contract at CNN is to do a prime time show … so if execs move her to an earlier spot, they might have to do a little convincing."
From 2006 to 2009, Cuomo was a news anchor for Good Morning America, before moving to 20/20.
Recently, Jake Tapper also made the move from ABC to CNN. With Jeff Zucker taking the reins at the network, there's no shortage of changes and rumors.
UPDATE: CNN made it official on Tuesday. Here's the release:
CHRIS CUOMO JOINS CNN

Award-winning anchor and investigative reporter Chris Cuomo is joining CNN. He will have a major role in a new CNN morning show and across the network, anchoring and reporting on major events, it was announced today by Jeff Zucker, President of CNN Worldwide.

"Chris is an accomplished anchor who is already an established name in morning television, as well as a widely respected investigative journalist," said Zucker. "What I love about Chris is that he is passionate about every story he tells, never forgets about the viewer, and represents the type of journalism that makes CNN great."

"This is a fantastic opportunity to do what I value the most and hopefully to do the work that I do best," said Cuomo. "While it's very difficult to leave ABC News, a place filled with people I have loved working with for many years, I am excited about my future with CNN."

Prior to joining CNN, Cuomo was co-anchor of the Emmy Award-winning ABC News newsmagazine 20/20 and chief law and justice correspondent for ABC News. In just the last year, he booked major interviews in the Madoff scandal, Rutgers student case, the John Edwards scandal, and with Penn State Coach Jerry Sandusky's victim No. 1. From September 2006 – December 2009, Cuomo was the news anchor for Good Morning America, and covered every major story at home and abroad during that time. Overseas, he was an embedded reporter in Pakistan, Afghanistan and Iraq. Domestically, he distinguished himself covering the continuing problem of shootings like Virginia Tech, Ft. Hood, and the Pennsylvania Amish school shootings; hurricanes Katrina and Rita; the Sago Mine collapse, and the Minneapolis bridge collapse in August 2007. Cuomo has been honored with numerous industry accolades for his investigative reporting including multiple Emmy nominations and awards, a Polk, a Peabody, two Edward R. Murrows, a Loeb and the American Bar Association Silver Gavel Award.
(h/t TMZ)
Have a tip we should know? tips@mediaite.com