ABC's Dancing With The Stars Website Flooded With Angry Comments For Casting Chaz Bono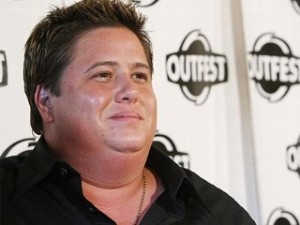 Dancing With The Stars fans, your politics are showing, and they're ruining everyone's fun.
Today, ABC announced the line-up for the upcoming (and 13th) season. The 12 "celebrity" crew, motley as ever, includes George Clooney's ex-girl friend Elizabetta Canalis, Kardashian brother Rob, and Casey Anthony obsessive Nancy Grace, among others. And with the competition still several weeks away, the announcement page has already attracted hundreds and hundreds of commenters, the majority of whom seem concerned to see Chaz Bono's name on the list.
Bono, Sonny and Cher's only child, was born a woman but has since legally changed his name and gender. He has said in the past that his decision to change genders was "a last ditch effort," and that he "needed a male body" and that he had "underestimated the [positive] impact my transition would have." Now, his inclusion on the popular show makes him one of the most visible transgendered people, a position that he seems to be slowly coming around to.
DWTS viewers will have to come around as well. The hoards of angry and offended commenters swarming ABC's announcement page voiced concern that "this will not be a family show any longer," "anyone that obese and physically grotesque is no picnic to watch trying to dance," and "I just don't want that lifestyle choice continually flaunted in the media." While many more commenters took up Bono's defense, plenty claimed they would be abstaining from this cycle of competition.
With their complaints, these vocal fans have broken through the show's be-sequined gleam, underneath which we find a much darker fabric, woven with not just dance and smiles, but also intolerance and politic. A dance competition it might be, but light fare this is not. Nor is this the first time a competition show has drawn-up such feelings. As Tim Molloy points out on The Wrap,
"Gay American Idol contestants have opted out to announce their sexuality, perhaps out of concern about alienating intolerant viewers. And Bristol Palin's Dancing casting two seasons ago led many to vote for or against her based on her mother's politics. If Americans quickly vote Bono off the show — or keep him on despite a middling performance, as they did with Palin — it could reveal plenty about attitudes toward transgendered people."
An audience's pre-existing values tend to influence the way they watch– and the way they vote. It will be interesting to see if Bono's effort, for which he's already begun training, will actually have an effect on ratings.
In an official statement, GLAAD suggests that the inclusion of Bono, along with former Queer Eye Carson Kressley, has "created prime-time firsts that reflect the growing acceptance of gay and transgendered people in America today."
H/T The Wrap
Have a tip we should know? tips@mediaite.com