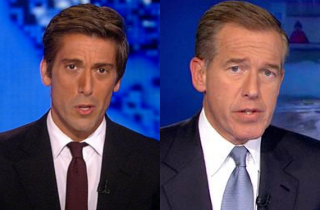 The controversy over Brian Williams' exaggerated war story may already be taking a toll on the ratings for NBC Nightly News. On Friday night, when coverage of the scandal had reached its fever pitch, ABC World News Tonight with David Muir topped Williams' broadcast in both total viewers and the 25-54 news demo.
Compared to his Monday through Thursday average, Williams' total viewer ratings dropped 36% to 8.0 million, though that is only slightly lower than the 8.1 million he averaged the previous two Fridays. By comparison, ABC had 8.5 million total viewers and CBS Evening News with Scott Pelley had 6.4 million.
Williams' week-to-week drop-off was more severe in the 25-54 demo, going from an average 1.9 million viewers the previous four Fridays to 1.7 million this past week. ABC once again led with 2.0 million (and CBS was third with 1.5 million).
Season to date, NBC Nightly News is in the lead with 9.3 million total viewers for its nightly broadcast, followed by ABC with 8.7 million and then CBS with 7.3 million, so it is significant any time ABC beats NBC at 6:30 p.m. But the big caveat here is that when ABC does beat NBC, it is often on Fridays. (Though this was ABC's biggest Friday victory yet.)
Since David Muir replaced Diane Sawyer last September, ABC has beat NBC nine times in total viewers. Six of those occurred on Fridays. So it is unclear as of how much the Brian Williams controversy played in to last Friday's win for ABC.
Starting tonight, NBC Nightly News will be anchored by Lester Holt for an unspecified number of nights. If there were ever a time for ABC to make a major dent in NBC's nightly ratings lead, this is it.
[Photos via ABC/NBC]
— —
>> Follow Matt Wilstein (@TheMattWilstein) on Twitter
Have a tip we should know? tips@mediaite.com