ABC's Dr. Richard Besser Documents 'Unsettling' Visit To An Ebola Ward In Uganda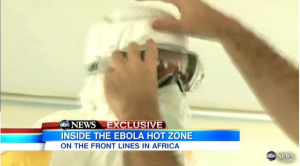 ABC chief health and medical editor Dr. Richard Besser recently documented his trip into an Ugandan Ebola ward, describing the experience as the most unsettling he's had in his career. Besser shot footage from within the award on his own small camera because venturing inside was, he notes, "too dangerous for my photographer-colleague Alex to come in."
The ward held three patients confirmed to be infected with the virus in addition to another 15 or so who were awaiting test results.
The following are from his reporter's notes, titled "Inside the Ebola Ward: On the Front Lines in Uganda:"
The level of care on the ward is, at best, basic. No monitors, no I.V. pumps, no blood pressure cuffs. To me, it looked like the main purpose for the ward was to remove these people from society, to protect the community from this untreatable disease.

Getting out of the suit was harder than getting in. With the removal of each layer I had to be sprayed down with bleach: apron, body suit, hood, goggles, face mask, and two pairs of gloves.

I've been in buildings in which anthrax has been released; I've tracked cholera across South America. I don't think I've been in an setting that felt more unsettling than the ebola ward.
Besser's exclusive report on "Inside the Hot Zone: The Ebola Outbreak," will air tonight on World News with Diane Sawyer and later this week on Nightline.
The segment below is a portion from Dr. Besser's documentation of the ward that aired on ABC this morning:
Have a tip we should know? tips@mediaite.com