ABC's Jon Karl Grills Cruz: People 'Hated' This, Saw It As 'Ted Cruz Shutdown'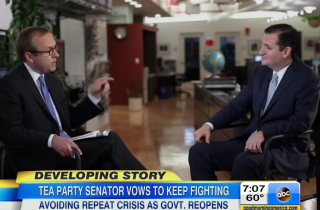 In a contentious interview, ABC News reporter Jonathan Karl grills Sen. Ted Cruz (R-TX) over his strategic decision to attach the defunding of Obamacare to the threat of a government shutdown.
In a clip previewed today on Good Morning America, Karl asked the Texan senator: "So, you would do it again?"

"I would do anything and I will continue to do anything I can to stop the trainwreck that is Obamacare," Cruz responded.
"Will you rule out pushing to the brink of another shutdown?" Karl asked in response. "Or will you say you're not going to do that?" Cruz replied that his intention is to continue "standing with the American people" against Obamacare because "it's costing people jobs" and taking away their healthcare decisions.
"People hated this shutdown," the ABC reporter pressed. "They hated this impasse. And this was seen as the Ted Cruz shutdown. You, more than any single individual, were seen as the one that triggered this crisis to begin with."
Cruz pushed back by suggesting those were the thoughts of "D.C. politicians" and "a lot of the media."
"I'm talking about public opinion nationally," the reporter clarified.
"Let me be very clear: I said throughout this, we shouldn't have a shutdown," the senator declared. "I don't want a shutdown. I repeatedly voted to open the government."
"But there never would have been a shutdown if you hadn't gone with this strategy," Karl said to the senator.
Watch below, via ABC News:
[h/t
NewsBusters
]
— —
>> Follow Andrew Kirell (@AndrewKirell) on Twitter
Have a tip we should know? tips@mediaite.com