ABC's Jon Karl Grills Ted Cruz For Saying Obama 'Exploited' Newtown: 'How Do We Get Anywhere' Like This?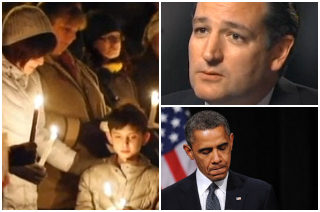 With rumors swirling about a 2016 presidential run, Texas Senator Ted Cruz appeared on ABC's This Week and attempted to thread the needle of being both bipartisan and rabidly anti-Obama to a skeptical Jonathan Karl.
Karl invoked the Newtown shootings, which Cruz believed Obama used—the verbiage is important—to push a gun control agenda.
"I think he had a political agenda, which was to restrict the Second Amendent right to keep and bear arms of law abiding citizens," Cruz said. "They took avantage of that horrible, tragic shooting to push that agenda, and they didn't focus actually on solving the problem."
Karl pushed Cruz as to how policy could advance if one side was accusing the other of things like using dead children to political advantage. "How do we get anywhere if you've got Republicans that won't even talk about a deal with the president?"
"I don't agree with the premise of that," Cruz responded. "I don't consider the president enemy number one. I think he is someone who believes passionately in his principles. And I respect him for that—"
"You just said he was exploiting the Newtown shooting," Karl said.
"Actually, you used the word 'exploiting,'" Cruz said, showing his trial attorney training. "I think the policies he was advancing were wrong and were dangerous. The point I was finishing is I admire and respect him in that he fights for his principles. But I think his principles are profoundly dangerous."
Watch the exchange below, via ABC News:
—
>> Follow Evan McMurry (@evanmcmurry) on Twitter
Have a tip we should know? [email protected]