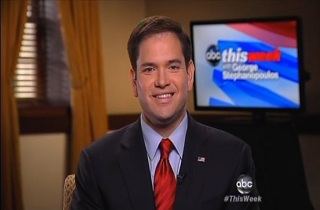 Florida Senator Marco Rubio found himself on the defensive during a barrage of questions from ABC's Jonathan Karl about his support for new immigration legislation. Rubio had to consistently explain that what he supports is not amnesty for illegal immigrants.
Rubio defended his support for the reform package as not giving anything to illegal immigrants beyond access to the legal immigration system. Many people here already won't qualify for anything under the proposal and according to Rubio this just gives people the opportunity to be considered for legal status, it doesn't actually grant them legal status immediately.
"It isn't rewarded on day one, you have to pay an application fee and a fine. You're gonna have to stay in the status and pay taxes while you prove that you're not a public charge and you don't qualify for federal benefits," he said.
Several conservatives on Capitol Hill have been critical of this legislation calling it amnesty while saying that it shortchanges those who have followed the law and waited their turn in line. Rubio dismissed these charges because existing law allows those here illegal to get access to citizenship. "The alternative we've created is gonna be longer, more expensive and more difficult to navigate. It would actually be cheaper for them to go home for ten years and wait for a green card," he said.
Karl pressed him on whether this proposal is actually "legalization first" over "enforcement first" and said that because somebody could gain citizenship within six months it actually is "legalization first." "The problem is what do you do in the meantime? While you're doing all these enforcement mechanisms what do you do with the millions of people that are undocumented," he said.
"What I want is to freeze the problem in place so it doesn't get worse," he said.
Rubio deflected Karl's question on how the fight over immigration could impact the long term health of the Republican Party.
Watch clip below via ABC
Have a tip we should know? tips@mediaite.com