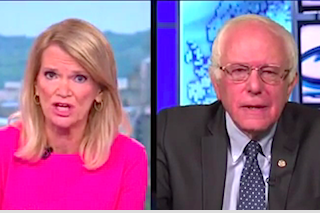 Bernie Sanders may be leading Hillary Clinton in New Hampshire (according to one poll) and gaining on her in Iowa (according to another), but is his campaign platform missing some crucial positions?
That was the supposition put forward on Sunday morning by This Week's Martha Raddatz, who pointed out to Sanders that "There are two issues that are entirely missing from your campaign website, and those are issues of national security and foreign policy."
She asked, "Don't you feel these are issues a president should be very concerned about?"
"Absolutely, Martha, and in all fairness, we've only been in this race for three-and-a-half months, and we've been focusing on, quite correctly as you've indicated, on the economy, on the collapse of the American middle class, on massive income and wealth inequality," the candidate explained. "But you're absolutely right. Foreign policy is a huge issue."
Sanders defended his anti-war record, not only voting against the Iraq War, but also opposing the 1991 Gulf War, even though Saddam Hussein had invaded Kuwait. "Do we need to go to war in every instance, or we can be bring pressure of sanctions and international pressure to resolve these conflicts?" he asked rhetorically.
The candidate denied that he favors force only when the U.S. is directly attacked, such as after 9/11 when he did vote to authorize military action in Afghanistan. "No, not at all, not at all," he said. "I think using our military is an option, obviously, that we will always have under certain circumstances, but it is the last option."
Watch video below, via ABC:
[Photo via screengrab]
— —
>> Follow Matt Wilstein (@TheMattWilstein) on Twitter
Have a tip we should know? tips@mediaite.com