ABC's Raddatz Grills Scott Walker on His 'Big, Bold, Fresh Ideas' on Syria, Immigration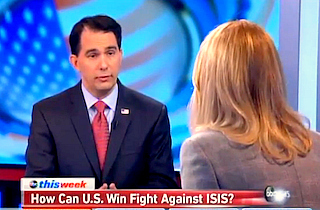 Wisconsin Governor and fan of pro-union punk bands Scott Walker came into his interview with ABC News' Martha Raddatz Sunday morning riding a first-place showing in an Iowa GOP poll, perhaps benefiting from the unceremonious exit of Mitt Romney. His celebration stopped short when Raddatz quizzed him on his foreign and domestic policy views.
"You talk about leadership, you talk about big, bold, fresh ideas," Raddatz said. "What's your big, bold, fresh idea on Syria?"
When Walker mentioned Obama's red line, Raddatz interjected. "Let's not go backward, let's go forward," she said.
RELATED: Scott Walker Will Trade You Money for Reagan Quotes
"I think we need to have an aggressive strategy anywhere in the world," Walker said.
"What does that mean?" Raddatz insisted. "You don't think 2,000 airstrikes is taking it to ISIS?" Eventually Walker said "boots on the ground," and just as quickly backed away from the suggestion.
Raddatz also pressed Walker for specifics on his immigration views, though couldn't get any further than that he opposes amnesty, but doesn't believe in mass deportation, either. "We've gotta have a healthy balance," Walker said. "In the end, we need to enforce the laws in the United States, and we need to find a way for people to have a legitimate legal immigration system, and that doesn't mean amnesty."
Walker finished by calling Hillary Clinton the ultimate creature of Washington.
Watch the clip below, via ABC News:

World News Videos | ABC World News
[Image via screengrab]
——
>> Follow Evan McMurry (@evanmcmurry) on Twitter
Have a tip we should know? tips@mediaite.com