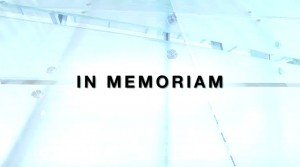 In recent weeks, viewers of ABC's This Week with Christiane Amanpour might have noticed a glaring absence at show's end. Staple segments "In Memoriam" and "The Sunday Funnies" were nowhere to be seen, and no explanation was given. Sources close to the show say that, while recent news events have dictated tweaks in the show's format, the segments will return at some point.

Sources close to This Week point out that the show has been on the road a lot in recent weeks (from the tragedy in Tucson, to the unrest in Egypt, to the unfolding revolution in Libya), "bringing the show to where the news is," and the absence of the two regular segments is a product of that shifting emphasis. The show's producers are tinkering with the format, but do expect both segments to return. They are currently working on online versions of the segments, so they can post them on the show's website even when events don't allow the segments to air on the show.
You wouldn't think that a practically wordless segment memorializing recent deaths would be controversial, but when Christiane Amanpour took over This Week, a minor flap ensued when she added a remembrance of "all those who died in war" to the segment, prompting critic Tom Shales to ridiculously wonder if Amanpour was trying to mourn the Taliban (although, based on Shales' premise, I wondered why he gave her a pass on the mourning of Ewoks).
Most sane people rejected the notion, and Amanpour continued to include "all those who died in war," while frequent fill-in Jake Tapper continued to introduce the Iraq and Afghanistan casualties without the addendum.
The "Sunday Funnies" segment, another absent mainstay of This Week, is a round-up of politically-themed comedy clips throughout the week that has become decreasingly relevant in the age of instant online aggregation. (I should probably also explain to our younger readers that the name "Sunday Funnies" refers to a section of comic strips that appears in things called "newspapers.") Tonally, it's easy to see how such a segment would clang loudly against a show like today's Libya-themed episode, but even in a normal week, it always seems like a weird thing to pair with "In Memoriam," even with a commercial break separating them.
In any case, while changes in the personnel and direction of This Week have been hotly debated, the absence of the "In Memoriam" and "Sunday Funnies" segments don't seem to have drawn much notice, suggesting that Sunday talk viewers have bigger fish to fry.
Have a tip we should know? [email protected]