Local TV Station Reminds Us Not To Shoot People In The Face This New Year's Eve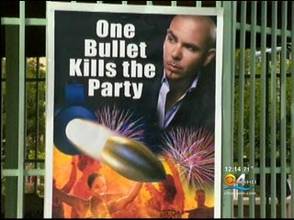 It has occurred to us that, perhaps, not all of you are familiar with a custom practiced in several little pockets within the U.S. on New Year's Eve: that of firing a gun into the air to commemorate 1874's Great Battle of Terrible Decisions. This tradition is especially prevalent in Miami, Florida, where local news outlets are doing their part to gently inform would-be murderers that firing bullets into the air might not be an intelligent course of action in places where gravity still has pull.
This year – as Riptide 2.0, The Miami New Times' blog, points out – the city has harnessed the panty-melting charisma of rapper Pitbull to teach kids and stupid adults to eat a balanced breakfast, say no to drugs, and refrain from raining bullets down upon their neighbors' faces and pets.
"One Bullet Kills The Party" is the name of this years campaign, masterminded by City of Miami Mayor Tomas Regalado, and the poster features, for some reason rapper Pit Bull. Yep, Pitbull just sitting their with his eyebrow cocked while a giant bullet prepares to crash down on a crowd of dancing revelers. [sic]
Additionally, local stations like CBS4 have reached out to viewers with valuable safety tips, including "When you fire and shoot a bullet into the air, that bullet is coming down."
In Philadelphia, Joe Jaskolka, a man who is now wheelchair-bound thanks to a wayward bullet fired one New Year's Eve, spoke out at a press conference, urging locals to use guns for their intended purpose of blowing up small woodland creatures or scaring misbehaving children.
And in California, a local man wrote to the Santa Monica Daily Press inquiring about gun laws, asking "What are the laws regarding shooting guns into the air? Will the police investigate each call they receive about such activity?" The answer, in a nutshell, was "STOP IT." So, tonight, please celebrate responsibly by keeping your guns at your bedside, where they belong, and getting blackout drunk on the subway instead.
Watch the report from Miami's CBS4 below:
Have a tip we should know? tips@mediaite.com