Activist for HIV/AIDS Says He Feels 'Burned by the Bern' Over Snubbed Requests For Meeting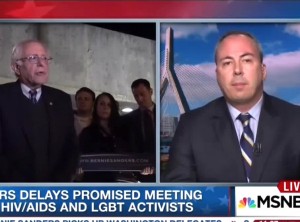 One of the key problems that has faced Sen. Bernie Sanders' (I-VT) presidential campaign has been its inability to garner support beyond its largely white supporters, due mainly to Sanders' continued insistence that what's good for those supporters is even better for minorities and other marginalized people. That problem with intersectionality was highlighted this weekend when HIV/AIDS activist Michael Rajner called Sanders out for grandstanding against Hillary Clinton's comments about Nancy Reagan, yet failing to equal even Donald Trump's campaign in engaging with his group.
Rajner told MSNBC host Joy Reid that all the other campaigns, including Donald Trump's, had been responsive to requests for a meeting, but that he felt "burned by the Bern" at having all of the group's outreach ignored by the Sanders campaign:
Quite honestly we feel burned by the Bern, and certainly suggest that he give us a call and reach out immediately. His campaign has been in lockdown and has refused to answer any of our e-mails, and there's been numerous ones. So we encourage him to reach out to us. The fact that we can actually hear, from Donald Trump's campaign, a genuine commitment to want to sit down with us once they have their policy team firmed, it sent a chilling statement. I think Senator Sanders has wanted to be a champion for the underdog and marginalized communities. HIV/AIDS is probably one of the most marginalized communities there are. We ask Senator Sanders to engage more in the issues and not the political rhetoric we see.
Hillary Clinton has already set up a meeting with Rajner's group, and while the Trump campaign's assurances may or may not come to fruition, they certainly are better than the nothing these activists are getting from Bernie Sanders.
This is an opinion piece. The views expressed in this article are those of just the author.