Actress Eva Longoria, Obama Campaign Co-Chair: Obama Is 'Only Candidate' On The Side Of Latinos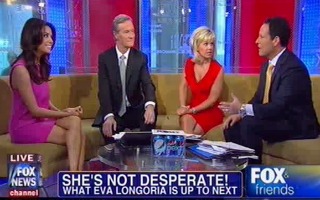 Desperate Housewives actress Eva Longoria appeared on Fox & Friends on Friday to discuss the last season of the drama, Pepsi Next and her occupation as a campaign co-chair for President Obama's 2012 reelection effort. Longoria also talked about what Hispanic voters are looking for in the next president.
RELATED: Snarky 'Chimichanga' Tweet By Obama Official Erupts Into Controversy
Longoria said that after Desperate Housewives ends, she plans to hit the road for the president's reelection effort engaging in voter contact and outreach. "I'm one of the co-chairs for the Obama campaign," Longoria told the Fox & Friends panel. "So I'm going to be really dedicating a large amount of my time going to the swing states."
"Do you think that you know what the Hispanic community wants in a candidate?" asked host Brian Kilmeade.
"It's funny because everybody assumes Hispanics are separate from Americans," said Longoria. "Our top issues are the same as America issues – we are Americans. The economy is number one, education is still number two."
"People think that immigration reform is going to be a top issue. It touches on economics, it touches on education – because of the DREAM Act – immigration does fall into a voter issue," said Longoria. "When people think about Hispanics, we're not a monolithic group. We all have very different values and very different opinions. The economy, jobs, growth…"
"And into family, correct?" interjected Kilmeade.
"Definitely," said Longoria. "I mean the social issues, which I now a lot of the GOP in the primaries they've been a lot about social issues, and sometimes Hispanics vote against their economic interests because of the social issues. But I think if you think economically, for me Obama is the only candidate that is on the side of Latinos.
The panel concluded by complimenting Longoria and saying they believe she will be the first female president to which Longoria joked, "the first think I'd do is paint the White House a different color."
Watch the video below via Fox News Channel:
Have a tip we should know? tips@mediaite.com