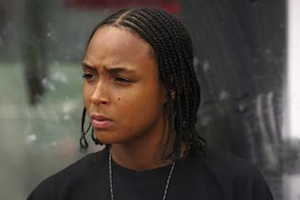 Sad news today for fans of great television. One of the many things that set the HBO series The Wire apart was its verisimilitude. This extended to the creators casting many actual former police officers and criminals in supporting roles. Felicia Pearson was one of the best examples of this; a former drug dealer who made an indelible mark as the terrifying murderer Snoop. The Baltimore Sun is reporting that Pearson was one of 30 arrested this morning in a real life drug raid.
Pearson, whose own nickname "Snoop" was adopted by her fictional counterpart, served jail after being convicted of second-degree murder at age 14. It was the death of a friend, drug dealer Arnold Loney who gave her her nickname, while she was in prison that caused her to turn her life around. A few years later, she happened to run into Michael K. Williams, the actor who played the character Omar, at a Baltimore bar. He told her she looked just like a character the show was having a hard time casting. Soon after, she was giving a performance that Stephen King called "perhaps the most terrifying female villain to ever appear in a television series." Recently, she ran the Baltimore branch of Moving Mountains, a group that teaches kids performing arts to keep them off the streets.
Officials have said that the raid was part of a five-month investigation to stop a "large-scale heroin and marijuana operation." Pearson's arrest appears to be a sad chapter in what was becoming one of television's more inspirational personal stories.
(h/t NPR)
Have a tip we should know? tips@mediaite.com