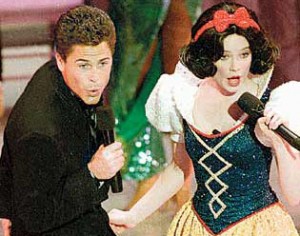 If it seemed like everyone was ganging up on James Franco, Anne Hathaway, and the Oscars yesterday, it's because they were. In one of many brutal takedowns, Rolling Stone's Peter Travers said, "The stirrings I felt from the 83rd annual Oscar show made me want to puke. How could so many stars bore so many people breathless?" Few critics could find anything positive to say about the ceremony, and many echoed the same declaration of "Worst Oscars Ever." But that phrase may sound familiar – it's been summoned on several occasions in years past (it's also somewhat accepted that 1989's show was really the worst ever). Here, a look at how reviewers of the annual spectacle have summoned the same refrain:
2010 ceremony: "Worst. Oscars. Ever," said movie critic Peter Howell in the Toronto Star. "Yes, I know I've said this before. But the Academy keeps coming up with new lows." Hosts Alec Baldwin and Steve Martin led a show that "was a desperate attempt to look hip," and, at three-and-a-half hours long, it "wasn't the longest Oscar broadcast ever, but it sure felt like it." In fairness, "I should qualify my rant slightly. This wasn't the worst Oscars ever, it was the worst Oscars broadcast ever." They did pick the right winners. Still, in the spirit of one of the year's most popular films, I wish we had "our own avatars to watch the show in our place, saving us from having to endure it ourselves."
2009 ceremony: In a piece titled "The Worst Oscars Ever," The Daily Beast's Lee Siegel said the "show was an embarrassingly contrived spectacle that only served to prove how insecure Hollywood is about its own future." Hoping to re-establish "cultural relevance they used to" have, the organizers "desperately seized on a whole new format." It was a "disaster," to say the least. "No wonder the show's main sponsor was JC Penney, who it seems is embarking on an ad campaign to rebrand itself from a downscale discount outlet to an upscale discount outlet." The night concluded with the airing of trailers for some upcoming films, which "was like watching a nervous breakdown."
2008 ceremony: "[A]ll in all, it was The Worst Oscars Ever in the History of Hollywood," said Nikki Finke in LA Weekly. It was the lowest-rated, partially "because this was really the 11th-hour Oscars" thrown together "after the sudden and unexpected settlement" of the writers' strike. Putting on a show with just two-weeks notice is tough, and it showed. Most of the time, host Jon Stewart "just stood there uncomfortably, searching for a few words to say." But this "debacle" wasn't all Stewart's fault. It's about the movies, and No Country for Old Men took home top honors. Would it really "kill the academy to include crowd-pleasers" like action films or comedies? "Usually, academy voters are painfully out of touch with the tastes of the American public. Now the show is a pathetic anachronism too."
2007 ceremony: "This was the most tedious Oscars show ever," said Rolling Stone's Rob Sheffield. There's a lot to complain about here. "Dumb montages. Dumb comedy bits. And sorry, but after two speeches by Al Gore, several speeches about him and a Melissa Etheridge song," I'd had enough. "Christ, Al, would it have killed you to just win Tennessee?" Spare us, please.
Does that make Jon Stewart's 2006 show the best ever?
Have a tip we should know? tips@mediaite.com