Adam Lambert Backlash Begins: GMA Cancels Concert After Complaints (Update)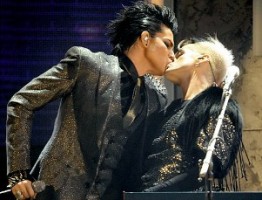 After Adam Lambert's thrust-tastic, overtly sexual performance at Sunday night's American Music Awards resulted in more than a thousand complaints, the first signs of a backlash are being seen.
TVNewser reports Lambert's planned performance on ABC's Good Morning America has been canceled.
An ABC News spokesperson told TVNewser, "Given his controversial live performance on the AMAs we were concerned about airing a similar concert so early in the morning."
But don't expect Lambert to be held off ABC's airwaves for long – GossipCop reports Lambert will be named one of Barbara Walters' "Most Fascinating People of 2009," and will be part of her special on December 9. Still, there won't be a performance.
The media push for Lambert's new CD seems to be a combination of good and bad publicity for the pop star and his management team at RCA records, from the AMA closing performance to magazine covers. The buzz is certainly huge, but being canceled on a morning show watched by millions is a step backward. One question that has to be raised is whether the fact that Lambert is gay and the performance contained Lambert kissing (and more) male back-up dancers led to the cancellation? Would Lady Gaga's sexual performance have led to the same result? When Access Hollywood caught up with Lambert after his AMA performance, he said he "wished people could open their minds up and enjoy things."
In the same interview, he talked about what was coming up, teasing an appearance on Late Night with David Letterman for Monday night. That performance seems to have been pushed to tomorrow night, but will be taking place. Of the performance coming up on CBS, Lambert says, "the thing is, the song I'm performing on Letterman is a totally different energy."
Here's the Access interview:

> Update: CBS' The Early Show booked Lambert for a performance and interview tomorrow morning instead.
—–
» Follow Steve Krakauer on Twitter
Have a tip we should know? tips@mediaite.com