'Adorable Face To A Tragic Problem': Sarah Murnaghan's Aunt Emotionally Praises Transplant List Changes On Fox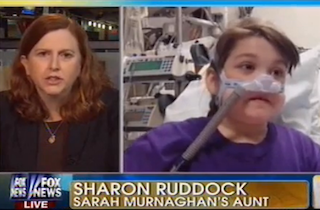 The story about 10-year-old Sarah Murnaghan has garnered significant attention recently — as her family fought to get her name on the adult donor list as she waits for a lung transplant. Sharon Ruddock, Murnaghan's aunt, appeared on Tuesday's Fox & Friends to discuss the case alongside Peter Johnson, whom she thanked for understanding their story.
A federal judge had ruled recently that Murnaghan, who has cystic fibrosis, be allowed on the adult transplant list (the "under 12" rule prevents children under 12 from receiving from being eligible to receive a lung transplant from an adult). In the latest news, officials voted to alter the rules to a case-by-case basis, allowing children under 12 to have their cases reviewed by a national board of lung transplant surgeons.
Ruddock deemed this an "important step forward," glad to see that many sick children may get a chance to get the transplants they need. It's part of her "legacy," Steve Doocy noted, as he recalled Murnaghan telling producers that she tipped her hat to Johnson "because he really did hold the feet of those responsible to the fire."
"He was one of the first to realize the importance of this story," Ruddock said. "He was one of the first to pick it up and really understand it — and not think it was just a case about one child."
Johnson responded with praise for Murnaghan and her family, lauding their strength and resilience. "These are life-affirming, strong people, and great Americans," he said.
While they are relieved with the progress of the case, Ruddock said the family is nervous but remains hopeful because Murnaghan is at the top of the list in the region. "It's going to be hard to keep up, for her to keep doing this," she said. "But now with this ruling we like we get a fair shot, a fair, equitable shot a lungs."
"At the end of the day," she said, "we hope Sarah's story is also about putting an adorable face to a tragic problem — and motivating and inspiring people to give organs."
Johnson offered his good thoughts as Ruddock again thanked Fox & Friends for their helping in getting the story out.
Watch below, via Fox News:

Have a tip we should know? tips@mediaite.com