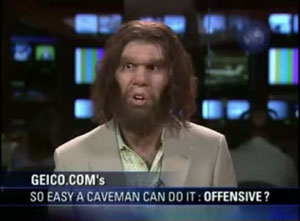 Glenn Beck is in even deeper trouble over his remarks that the president is "racist" now that GEICO has joined Progressive Insurance, Lawyers.com, and Procter & Gamble in pulling advertisements from Beck's Fox News show. Or is he?
Color of Change, a web-based grassroots group with more than 600,000 members that bills itself as "the largest African-American online political organization in the country," has led a campaign to drive advertisers away from Beck's show. They've been successful to a point, but the advertisers haven't moved away from Fox:
From the GEICO press release: (emphasis added in bold)
"On Tuesday, August 4, GEICO instructed its ad buying service to redistribute its inventory of rotational spots on FOX-TV to their other network programs, exclusive of the Glenn Beck program," said a spokesperson for GEICO Corporate Communications in an email to ColorOfChange.org.  "As of August 4, GEICO no longer runs any paid advertising spots during Mr. Beck's program."
From the P&G/Progressive/Lawyers.com press release:
"No P&G ads should have appeared on this program in the first place," said Martha Depenbrock, Brand Building Stakeholder Relations for Procter & Gamble in an email. "To be clear, if any of our advertising appeared on the Glenn Beck show, it was in error and we appreciate you bringing this matter to our attention…"

"Our (advertising) order specifies no Glenn Beck," said Linda J. Harris, Media Director at Progressive Insurance in an email to ColorOfChange.org. "We have confirmed with the network that our spots should not be running there."
The reason these spokesmen were able to blame their ads appearing on Glenn Beck on technical problems with a straight face is because cable ad buys work differently from network purchases. Networks sell ads by time slot, but cable channels sell ads by number of eyeballs. If GEICO, Progressive, and the rest initially expressed preference for Beck's slot, it's relatively easy for them to heroically shift their ads to different slots while still getting their dollars' worth. Fox holds onto the marquee advertisers. And as long as they can find replacements to air during Beck's slot — and given his ratings, they likely will be able to — Fox and the advertisers are able to please everyone without addressing the gaping hole that is Glenn Beck's initial remarks. Call it advertising shuffleboard.
Color of Change scored a legitimate political victory in keeping high-profile advertisers away from Beck's program, but it's unclear whether the move will have much financial impact, thanks to the tricks at Fox's and advertisers' disposal.
Have a tip we should know? tips@mediaite.com