Affirmative Action Proponents Beside Themselves over SCOTUS Ruling
Rothman: Affirmative Action Proponents Beside Themselves over SCOTUS Ruling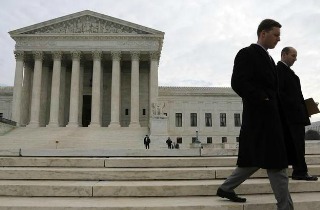 By a vote of six to two on Tuesday, the Supreme Court upheld the state of Michigan's voter initiative which banned the use of racial preferences in the admissions process for state universities. The ruling is widely seen as a companion to an earlier Court decision concerning the University of Texas' inclusion of race among the criteria they consider when evaluating a prospective student.
The Court determined at the time, by seven to one, to send the case back to lower courts for review which many interpreted as an acknowledgement that the Court could not invalidate racial preferences in schools' admissions processes.
Then, the Court decided that racial preferences are permissible in states that want them. Today, the Court ruled that states that do not want racial preferences are free to ban them.
But what would seem to be a narrow ruling which only affects college admissions has sweeping political implications, according to the panel assembled on CNN to discuss the ruling. George Washington University Law School professor Jonathan Turley thought that the ruling provides states with a framework in which they can do away with racial preferences on a broader level than merely public university admissions. But John Jay College Law School professor Gloria Browne-Marshall foresaw consequences resulting from this ruling which could be far more sinister.
"Now, we're in a situation in which, if the majority rules, how is that going to affect any minority group?" Browne-Marshall asked. "I mean, it's opened a Pandora's Box on a majority ruling on the rights of minorities via the amendment of the state constitution."
"I can really see what you're talking about now," said CNN anchor Carol Costello who, with a heavy sigh, agreed. "That voters could, I don't know, they could vote down so many other things that they don't particularly like, right?"
"Yes," Browne-Marshall said, adding that she was "disappointed in women." The law professor noted that the 1964 Civil Rights Act, which is celebrating it's 50th anniversary this year, not only protected ethnicities and nationalities from discrimination but women as well.
"It seems as thought there is this conflict now between this majority — 51 percent are women who are white — and people of color, and we're all trying to squeeze through this same little crack in the opportunity door," Browne-Marshall added. "And the Supreme Court is basically saying, 'Well, minorities have to step back.'"
"I think the concern is today that the Supreme Court didn't really act as that last resort for people of minority groups," she concluded.
If the Court had the intention of legitimizing a state's ability to curtail the rights of minorities, like gay and lesbian Americans — an example that both Browne-Marshall and Costello cited — it stands to reason that five of the nine Supreme Court justices would not have dismissed the challenge to a 9th Circuit Court of Appeals ruling that judged California's Prop 8 ban on same-sex marriages was unconstitutional. However the Court ruled in that case, if they had decided to rule at all, it would have established the precedent they say now exists: namely, that the rights of citizens can be curtailed in state constitutions.
But regardless of the merits of Browne-Marshall's objection to this ruling, the politics of it are unlikely to play out as she appears to predict. That is due, in part, to the fact that affirmative action is far less popular than it was just 20 years ago.
An NBC News poll conducted from May 30 to June 2 of last year found that just 45 percent of respondents viewed affirmative action programs as necessary bulwarks against institutional discrimination. A full 45 percent said that programs like affirmative action were no longer needed.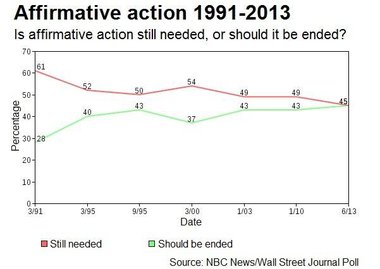 That result is sharply down from 1991, when a full 61 percent said affirmative action was critical and only 28 percent said that it was not necessary. "Reasons for the trend range from the idea of 'diversity fatigue' to what others believe is the effect of an African-American being elected president, as well as 20 years of anti-affirmative-action campaigns," NBC News reporter Dominico Montanaro observed.
A Gallup survey conducted from June 13 to June 15 of 2013 that time found slightly different results. When asked if the public generally favors or opposes affirmative action programs for racial minorities, 58 percent of respondents expressed support while just 37 percent said they opposed them. However, when the question was specifically framed around what the Court decided today, asking whether universities should apply racial preferences to the admissions process, the results were quite different.
Gallup found that 67 percent of respondents believed that students should be admitted "solely on merit." That figure includes 59 percent of Hispanics and 75 percent of non-Hispanic whites. Only a narrow plurality of African-Americans (48 percent) expressed support for racial preferences in the admissions process while 44 percent of blacks said that students should be admitted based on their aptitude alone.
The drop in support for affirmative action tracks with an increase in the perception that minorities enjoy the same access to the opportunities that are available to whites. Gallup, which has been asking this question since 1963, found that 48 pecent of surveyed Americans confessed in that year that blacks did not have access to the same opportunities that whites did. In 2009, the last time this question was asked of respondents, 79 percent say that blacks have the same access as whites to opportunities for which they are equally qualified.
While African-American respondents were far more pessimistic about their ability to secure the same opportunities as whites, a near majority of black respondents (49 percent) believed that racism was not a factor hindering their future prospects for success.
Browne-Marshall may have a constituency for her self-limiting view that success is a zero sum game in the United States, and that minorities and women must form a bloc aimed at erecting permanent barriers to inhibit the success of non-minorities lest they be left behind, but the Court does not share that view.
When the Court struck down what they viewed as a dated and illegitimate provision in the 1965 Voting Rights Act, the majority opinion observed that the circumstances on the ground have changed since the 1960s and the laws must change with them. The public, according to the polls, shares this view. Those like Browne-Marshall who believe the opposite are in the minority.
Watch the clip below via CNN:
[photo via screengrab ]
 — — 
>> Follow Noah Rothman (@NoahCRothman) on Twitter
Have a tip we should know? tips@mediaite.com