African American Family: Restaurant Denied Us Service After Diner Felt 'Threatened'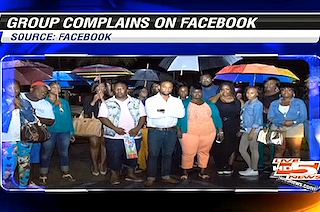 An African American family who were denied service at a Wild Wings Café in Charleston, South Carolina after another patron felt "threatened," claimed they were discriminated against, and were not satisfied with the restaurant's response.
After waiting over two hours, customer Michael Brown and his family, who were at the restaurant for a going-away party, were told that there was "a situation."
"[The manager] said there's a situation where one of our customers feels threatened by your party, so she asked us not to seat you in our section, which totally alarmed all of us because we're sitting there peaceably for two hours," Brown said according to WCSC. "Obviously, if we were causing any conflict, we would have been ejected out of the place hours before."
When a member of the party began filming the exchange, the manager asked them to leave.
"I asked her I want to be clear with you," Brown said. "I said, 'So you're telling me I have to leave.' She said, 'I have a right to deny you service.' I said, 'So you're asking me to leave because you're upset because he was recording you, after we've waited for two hours, and after you've already pretty much discriminated on us,' and she answered, 'Yes.'"
When phone calls to the Wild Wings Café corporate office were not returned, Brown posted a critical message about the restaurant on Facebook, after which the company promptly responded.
"We had a conversation," said the restaurant's chief marketing officer. "It was a really good conversation. He and many of his family and friends were there about a month ago, and they are regular customers of ours. So, they were having a going away party, and they just didn't receive the experience that they have come to know and love."
Brown was offered a free meal, which he was not satisfied with. "We weren't there for a free meal," he said.
Watch the clip here, via WCSC:
[h/t RS]
————
>> Follow Evan McMurry (@evanmcmurry) on Twitter
Have a tip we should know? tips@mediaite.com