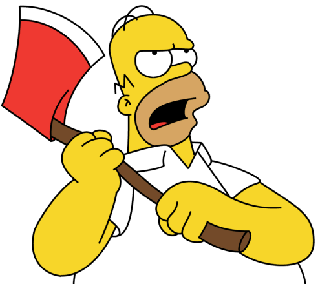 After 23 years, 500 episodes and billions of d'oh!'s later, money disputes have shown Fox studio executives ready to pull the plug on their beloved The Simpsons.
The Daily Beast's Lloyd Grove reports today that a negotiating impasse between studio executives and the actors who voice the Simpsons' characters might be end game for the longest running sitcom in the history of broadcasting. Hoping to cut production costs, 20th Century Fox higher-ups have asked the show's six primary voice actors to accept a 45 percent pay cut, threatening otherwise to end the series for good with the current and 23rd season.
The actors, who currently earn a comfy $8 million for their 22 or so annual weeks of work, proposed a slightly smaller cut in exchange for a small percentage of the show's back-end profits — "amounting to untold billions" between syndication and merchandising, Grove reports. The show's creators, James L. Brooks and Matt Groening, have and will continue to see revenue from the show; the actors, meanwhile, argue that they will receive little more than their union-mandated residuals when all is said and done. You might not notice the dearth of new episodes, but they certainly will.
"The show has made billions in profits over the years and will continue to do so as far as the eye can see down the road. The actors are willing to take a pay cut of roughly a third, but that's not good enough for Fox," explain a Simpon's insider quoted in Grove's piece. "Now Fox is basically saying, 'If you don't take this deal, we'll shut down the show,' and they'll continue to make a ton of money. They're free to sell it to cable and a second round of syndication, and they figure that the cast has very little leverage."
Have a tip we should know? tips@mediaite.com