After Disqualifying Grimes from Senate, Chuck Todd Disqualifies McConnell from Leaderhip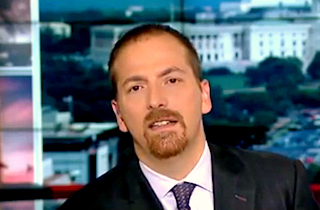 Chuck Todd cannonballed into the Kentucky Senate race last week when he said that Democratic candidate Alison Lundergan Grimes disqualified herself from office by her refusal to state whether she voted for President Barack Obama, a determination that even made it into an attack ad by Senate Minority Leader Mitch McConnell.
Perhaps feeling the need for balance, Todd and NBC News First Read crew disqualified McConnell from his potential Senate Majority Leader position Thursday morning based on his incoherent stance on Kynect, Kentucky's Affordable Health Care portal. (Tl;dr version: McConnell supports the popular website, but wants to eridicate the unpopular law it implements, but without which it cannot function.) Here's First Read's verdict:
If you wanted another example of how Republicans likely won't be able to deliver on their promise to repeal the four-year-old health-care law, it's this. And if Senate Republicans really do want to repeal health care if they win control of the Senate, then McConnell has disqualified himself to be their majority leader to do it, as National Journal's Ron Fournier contends. You can't say you want to repeal the whole thing, but that Kynect is "fine."
Granted, disqualifying McConnell from his leadership position based on a major policy position is not as bad as disqualifying Grimes from the overall office, but good luck making that point in a thirty-second ad.
Watch Todd's original comments below, via MSNBC:
[h/t NBC News]
[Image via screengrab]
— —
>> Follow Evan McMurry (@evanmcmurry) on Twitter
Have a tip we should know? tips@mediaite.com