After Scathing DOJ Report, Baltimore Police Commish Brags About How Many Cops He's Fired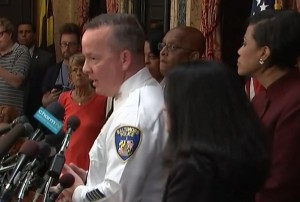 On Tuesday night, the Department of Justice released a 162-page report detailing the results of its patterns and practices investigation into the Baltimore City Police Department, and on Monday morning, United States Assistant Attorney General for the Civil Rights Division Vanita Gupta was joined by Mayor Stephanie Rawlings-Blake and Police Commissioner Kevin Davis for a lengthy press conference on that scathing investigation.
AUSA Gupta essentially read from the report's executive summary, which detailed some of the shocking results of an investigation that found widespread and systemic violations of the US Constitution and excessive force, and while Mayor Rawlings-Blake promised commitment to the reforms needed going forward, she cautioned against "pointing fingers of blame" at past abuses. Commissioner Davis, however, assured reporters that police officers guilty of the more "egregious" offenses detailed in the report were let go:
Some of the more egregious acts described in the report, action has been taken and those police officers have been removed, and no longer work for the Baltimore Police Department.
Commissioner Davis didn't elaborate on exactly how many officers were fired as a direct result of the Justice Department investigation, but later in the press conference, he did reveal the maximum number it could possibly have been:
In terms of cleaning house, I've fired six police officers in 2016 alone.
That's right, after reading a report that details, among other things, police officers regularly using "excessive force against individuals with mental health disabilities," the police commissioner assures you that up to six people were let go as a result of that report.
It's hard to know where to begin with that report because it is so unbelievable, but here's just one choice cut: out of more than 300,000 pedestrian stops between 2010-2015, "Only 3.7 percent of pedestrian stops resulted in officers issuing a citation or making an arrest," and as AUSA Gupta noted in that press conference, thousands of those arrests were later dropped due to insufficient cause. To put that in perspective, New York's "Stop and Frisk" policy was a trainwreck for a one-in-ten ratio, three times more effective than Baltimore's.
Here's just one other nugget that boldly illustrates the need for accountability in policing: according to the DOJ report, the Baltimore Police Department received 2,818 reports of "force incidents" in six years, and they investigated ten of them. Here's the kicker:
Of these ten cases, BPD found only one use of force to be excessive.
The City of Baltimore is now negotiating a consent decree with the Department of Justice that will hopefully lead to some reforms, but the ruined lives that are represented by the numbers and letters in that report, and those that aren't represented because they weren't reported or weren't included in this time frame, well, they get the satisfaction of knowing that up to six of the people who ruined their lives have to find private security jobs. Reforms are necessary, but accountability is the only thing that will make them stick.
This is an opinion piece. The views expressed in this article are those of just the author.