AG Eric Holder: Plot to Assassinate Saudi Ambassador in D.C. Had Ties to Iranian Government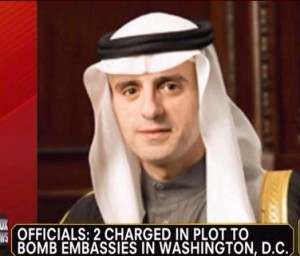 At about 2:15 p.m. (Eastern) on Tuesday, U.S. Attorney General Eric Holder announced that charges had been filed against Manssor Arbabsiar, a 56-year-old naturalized U.S. citizen holding both Iranian and U.S. passports, and Gholam Shakuri, an Iran-based member of Iran's Qods Force–a special operations unit of the Iranian Islamic Revolutionary Guard Corps (IRGC)–in an attempt to assassinate Adel A. Al-Jubeir, the 49 year-old Saudi Arabian Ambassador to the U.S. The attacks, according to Holder, were to take place in Washington, D.C. Charges were filed in federal court out of New York's Southern District.
Probably the most telling element of the press conference was this line in Holder's statement:
"In addition to holding these individual conspirators accountable for their alleged role in this plot," Holder said, "the United States is committed to holding Iran accountable for its actions."
Arbabsiar was arrested in late September at New York's John F. Kennedy International Airport. Shakuri remains at large, likely in Iran. Holder explained that Arbabsiar met this May in Mexico with a confidential informant working for the DEA who was posing as, "an associate of a violent international drug trafficking cartel." After a series of meetings, it was agreed that the informant would be paid $1.5 million to kill Al-Jubeir on American soil. $100,000 was deposited into an account as a down payment for the assassination.
Holder also said that upon his arrest, Arbabsiar confessed to participating in the plot and provided information about the Iranian government's role in the conspiracy. Which means that this story is likely far from over. But for today, back-slaps were rightfully exchanged all around, as each law enforcement agency couldn't say enough about what a great job the others did–as well as what a great help Mexico was. Had Arbabsiar succeeded in having the Saudi Ambassador assassinated on U.S. soil, there's no telling how many steps back America might have taken in national security issues. Instead, the United States saved the life of the Saudi Ambassador and exposed a plot that germinated somewhere in the government of a nation that is growing increasingly brazen.
Have a tip we should know? tips@mediaite.com