Again? Jay Leno Tells Joke Suspiciously Similar To Red Eye's Greg Gutfeld's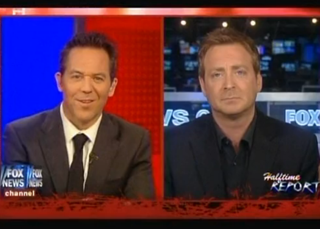 Looks like the Red Eye time machine was working overtime this week, as yet another Jay Leno joke from the future somehow ended up on the May 31st edition of the show. This time, Leno's program made a joke about Anthony Weiner ending up hosting a CNN show a week after Greg Gutfeld did– and the resemblance after Leno seemed to have pulled a joke from Andy Levy two weeks ago certainly raises eyebrows.
Below the text of Leno's joke, followed by Gutfeld's the week before:
More and more people are calling for Anthony Weiner to resign, but it's not all bad news. Eliot Spitzer said if Weiner does resign, he could join him on his show, and they could call it Weiner/Spitzer.
You know what? I think he should resign. CNN will give him a job, it'll be Spitzer/Weiner, but it actually could work!
This isn't the first time Leno is accused of stealing jokes– not even the first time the Red Eye crew seem to find their jokes had strayed onto Leno's program. So of course the only logical explanation Levy could find is that Gutfeld had misused the show's time machine to go back in time and steal the jokes from Leno, hoping to filch much of the good will Leno has acquired in the comedy world for himself. Gutfeld apologized for "besmirching his great name," so hopefully now that Levy is onto him, Gutfeld will refrain from using his powers of time travel for evil and not good, and will work on his own jokes instead of stealing from Jay Leno, who surely has never been accused of doing such a thing.
Last night's Red Eye paranormal mea culpa via Fox News below:

Have a tip we should know? tips@mediaite.com