Ahmadinejad Sits Down With Piers Morgan, Engages In Heated Argument Over Homosexuality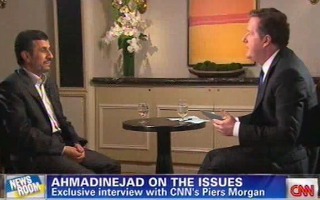 Previewing his interview with Iranian President Mahmoud Ahmadinejad, Piers Morgan sat down with CNN anchor Brooke Baldwin on Monday to discuss the controversial topics that were explored. In a clip of the interview set to air Monday night, Morgan and Ahmadinejad engage in a back in forth over the legitimacy of homosexuality.

Morgan said that he talked about a range of issues with Ahmadinejad, including the recent flare-up in the Middle East over an incendiary YouTube trailer that mocked the Islamic faith. Morgan said that Ahmadinejad condemned the video, but he also said that the protests over the video must be peaceful.
Morgan described Ahmadinejad as a "man of many contradictions." The CNN host said that he was struck by Ahmadinejad's intellect and rationality, but he was also taken aback by his irrationality on issues like homosexuality and Israel.
CNN played a clip in which Ahmadinejad addresses the issue of homosexuality in Iran.
"Wouldn't it be great for the president of Iran to say, 'you know something? Everyone is entitled to whatever sexuality they are born to be,'" said Morgan. "That would be a great symbol of freedom."
"Do you really believe that someone is born homosexual," Ahmadinejad replied. "Do you believe that anyone is given birth through homosexuality? Homosexuality ceases procreation. Who has said that if you like or believe in doing something ugly, and others don't accept your behavior they are denying your freedom?"
Morgan asked what Ahmadinejad would do if one of his three children turned out to be homosexual. He replied that education and politics must be geared towards preventing the spread of homosexuality. "If a group recognizes an ugly behavior or an ugly deed as legitimate, you must not expect other countries or groups to give it the same recognition."
Morgan said that he was surprised to find that, when he asked Ahmadinejad if he would be alright with the concept of his daughter dating a Jew, that the Iranian president said he would not have a problem with that. "Wow," said Baldwin.
"I don't think he's mad in the way that many in the West prefer to see him," said Morgan. "The real issue is not his views on homosexuality, or any of the social issues I discussed, but his views on Israel."
Morgan said that he asked many tough questions on the issue of Iran's nuclearization and Israel's threats to halt their production of a nuclear device by military means. However, Morgan said he was surprised by the Iranian president's clarification of his threat to "wipe Israel off the map." Morgan said that Ahmadinejad was referring to Israel's occupation of portions of Palestine.
Watch the preview segment below via CNN:
> >Follow Noah Rothman (@Noah_C_Rothman) on Twitter
Have a tip we should know? tips@mediaite.com