Ahmadinejad To Fareed Zakaria: Iran Will Encourage Syria To 'Reach An Understanding' With Protesters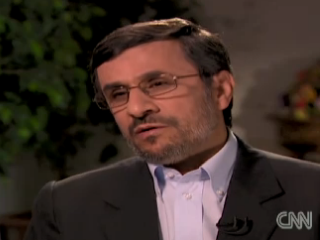 It's been an earth-shattering week for Middle Eastern dictators, and with the fall of Muammar Gaddafi, many in the region are turning their eyes towards Syria's Bashar al-Assad and Iran's Mahmoud Ahmadinejad, as their people continue to struggle (though less violently) from within to free themselves from their regime. Ahmadinejad, meanwhile, is doing a round of media in America, talking to Fareed Zakaria in an interview airing tomorrow on CNN, and asking that the international community respect Syria's relationship with its citizens.
RELATED: Ahmadinejad Essentially Tells Wolf Blitzer: 'Iran Isn't Gay, But Maybe You Are!'
While the full interview will air on Fareed Zakaria GPS tomorrow, CNN has released a clip today of the dictator, clad in his typically unassuming business suit and adding "dad glasses" to his attire, speaking softly about the trouble with the United States' claims that the Syrian government should stop torturing and brutalizing its citizens. Confronted by Zakaria with the fact that "the vast majority of deaths [in Syria] are the security forces killing innocent men, women, and children," Ahmadinejad replies reasonably that he believes "nobody should kill the other," but that the situation wasn't so simple:
"Nobody, nobody, nobody has the right… instead of capturing or arresting people, they should have [heard] the voice. They should listen to the people and they have things to say. And they should pay attention to the demands and requirements. We say that governments must be responsible for the requirements and desires of their own people, the security of the people and their rights. And these are — this is general for Iran, for Libya, for Syria, for Europe, United States, Africa, everywhere. And this is a general rule for all. We have announced that many times."
He continued to add that Iran was going to "make greater efforts to encourage both the government of Syria and the other side, all parties, to reach an understanding," but that he did not see a role for the United States. Turning to Libya, he argued that the situation could have been remedied in a more appropriate manner, but NATO "wanted the oil resources in Libya. There was no need to kill so many people," he concluded, a lament that he seems to have forgotten to make while Gaddafi was winning the civil war.
RELATED: When Horrible People Fight: Al Qaeda Wants Ahmadinejad To Stop Being A 9/11 Truther
Below a preview of the interview airing tomorrow, via CNN:

Have a tip we should know? tips@mediaite.com