Ainsley Earhardt Truly Earned F&F Hosting Gig After Years of Sleepless Sacrifice; Here's Why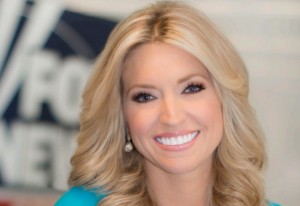 There are times when you can't help but golf clap a promotion or decision in the otherwise-cutthroat, patently-duplicitous world of cable news. But today is one of those periodic times when someone who put in the work, the sacrifice and effort to finally get the dream job actually wins the big prize.
As reported, Ainsley Earhardt was named the new co-host of Fox & Friends weekdays yesterday. Her first day alongside Steve Doocy and Brian Kilmeade is February 29, as said promotion occurred while Earhardt is on maternity leave. The 39-year-old has been with Fox News for nine long years (the "long" part will be explained in a moment). In what is truly a small world, her former Fox & Friends First co-host, Heather Childers, attended the same elementary as her in Sharon, SC… as did current Fox & Friends Weekend co-host Anna Kooiman.
But here's why Earhardt's promotion deserves a column: She would later attend the University of South Carolina, where she was inducted into four honor societies, graduating with a broadcast journalism degree in 1999. Earhardt would go on to work at local news stations in Columbia, SC and San Antonio before being hired by Fox News in 2007. And those nine years weren't what one would call easy, glamorous or necessarily fun, as Fox assigned her primarily to do what are called overnight cut-ins… a shift that really takes its toll on both body and spirit.
Having first done for overnights/early mornings in college (radio), Time Warner (NY-1) and FNC a long time ago in hosting, producing and news writing roles, respectively, it can be safely said working overnights means a schedule of doing cut-ins each hour on the half hour starting in the 10:00 PM hour, which consists of presenting a 1-minute news/breaking news update to keep the content fresh after the network goes to tape (repeats of prior programming) from live programming. And if big news does break, it's you and a skeleton crew left to handle matters until the regular, much larger staff starts comes in at 4:00 AM.
But the toll-body-spirit part comes with being idle for 59 minutes, only to have to turn yourself back on for one minute each hour. Know this: It would almost be better to be on the air during the entire 8-hour shift than waiting around, periodically coordinating with a producer or writer, tweaking scripts, and reading up on whatever you're covering because during the down times, the urge to sleep can be, at times, overwhelming. And once that shift is done, it's time to go home and attempt to rest during the day, which is usually an exercise in futility if getting a clean 6-7 hours is the goal (maxing out at 4 was almost always the case). It's especially tough when one is in a relationship with someone working standard hours and wants to grab dinner out once in awhile after their version of work. And try motivating a lifeless body to get to a gym…
This is basically what Earhardt endured for the better part of the past nine years: A thankless shift and no real sign of the big reward she's been aiming for all along: A shot at hosting Fox & Friends on weekdays permanently. Earhardt would fill in on F&F Weekend, sure. And she was rewarded the one-hour Fox & Friends First (5:00 AM EST) a few years ago along with Childers. But here's the thing about being on-air and moving up the ladder to better timeslots, more exposure, more money: It's always a race against time, against aging… particularly for women. On one hand, the average programming exec wants someone (preferably attractive regardless of channel or network, local or national) with poise, experience, energy and presence who brings chemistry to the set. On the other hand, it takes time to build a brand and establish the right contacts and trust internally. And if you're stuck behind what is your channel or network's version of a Today Show version of Katie Couric (in their own eyes), you're basically screwed.
So here we have Earhardt approaching 40 and feeling pressure to finally get that promotion. But then the definition of career luck occurred late last year, which is when preparation meets opportunity: Elisabeth Hasselbeck did what some Moms do after having a few kids: Leave her job — in this case, host of Fox & Friends weekdays — to be at home with her family full-time.
The powers that be at Fox then needed to make a decision between several fine candidates who had filled in on F&F recently before (Sandra Smith, Kimberly Guilfoyle, Anna Kooiman and Earhardt, among others). In the end — and this is just a guess since conjuring up Casper sources who don't actually exist in the building just ain't my thing — Roger Ailes and those who provide input on these decisions likely saw Smith (Outnumbered) Guilfoyle (The Five) and Kooiman (F&F Weekends) all as non-starters because of the programs they were already successfully hosting (particularly Guilfoyle, who is basically the glue on The Five). Move any of them to fill a void in mornings, create another void elsewhere in creating a game of hosting Whack-a-Mole. Earhardt's 5:00 AM spot — not exactly a crucial timeslot with most of the country asleep — is a much easier fill. Heather Nauert — a newsreader on F&F weekdays and a real talent if her hosting days on NYC's local Fox-5 early morning show are any indication — would be a quality choice.
But here's likely (and hopefully) more the reason behind the Earhardt decision: Fox brass appreciated her sacrifices that came with doing overnight cut-ins and a 5:00 AM show. She paid her dues for nearly a decade. She showed in fill-in opportunities she can perform the job and do it well. It was simply her turn. Fairness, loyalty and pragmatism actually won the day.
Fox & Friends weekdays has a new co-host. She put in the hours, basically didn't sleep well for nearly a decade. But the loyalty and coffee finally paid off.
It doesn't always work this way in broadcast news. But in this case, it did for Ainsley Earhardt.
— —
Follow Joe Concha on Twitter @JoeConchaTV
This is an opinion piece. The views expressed in this article are those of just the author.