Air Force Vet: Hillary's Response to My Forum Question Was 'Disappointing,' 'It Felt Canned'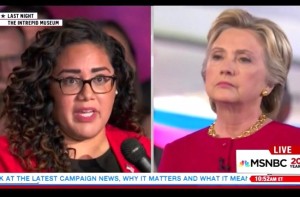 An Air Force veteran who asked Democratic presidential candidate Hillary Clinton a question during NBC's Wednesday presidential forum says she was disappointed by Clinton's response, saying it avoided answering her question.
"Secretary Clinton, to your point, you have had an extensive record with military intervention," said Pam Campos, an undecided Democratic voter. "How do you respond to progressives like myself who worry and have concerns that your hawkish foreign policy will continue? And what is your plan to end wasteful war campaigns in which our peers, servicewomen and men, continue to be killed and wounded?"
"Well, I assume you're talking about Iraq, because of my vote, and you probably are talking about Libya, because of the role that I played in the administration's decision about whether to take on Gadhafi…" Clinton responded. "Let me say very clearly: I view force as a last resort, not a first choice. I will do everything in my power to make sure that our men and women in the military are fully prepared for any challenge that they may have to face on our behalf. But I will also be as careful as I can in making the most significant decisions any president and commander-in-chief can make about sending our men and women into harm's way."
On MSNBC the next day, Campos said she found Clinton's answer wanting. "It was– it fell short," she said. "It was disappointing. It felt canned and frankly, she said several things that already exist."
"Our military is the best military in the world, we are extremely prepared," she said. "The question was, will she, under her administration, keep us in perpetual war?"
"What did you want to hear from her?" asked host Craig Melvin.
"Candor," Campos responded. "A little bit more candor. She referenced Iraq, she assumed that I was talking about Iraq and Libya. An example I think about often that she has not really addressed is the 2008 coup in Honduras, which we're now seeing refugees, a crisis."
"So it felt like an easy out. It felt like, 'Sorry, I'll be careful….' but what?" she concluded.
[Image via screengrab]
——
>>Follow Alex Griswold (@HashtagGriswold) on Twitter
Have a tip we should know? tips@mediaite.com