Akin Advisor Slams The GOP: 'There Will Be A Revolution In The Republican Party' If Akin, Romney Lose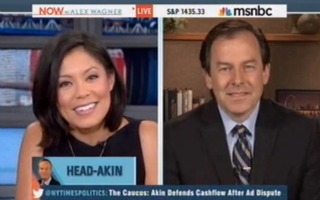 Rick Tyler, former advisor to Newt Gingrich's presidential campaign and current advisor to Missouri Senate candidate Rep. Todd Akin, appeared on MSNBC on Tuesday where he slammed the GOP for turning their back on his candidate. Tyler said that the Republican party would only have themselves to blame and warned of a "revolution in the Republican party" if Akin loses to Missouri's Democratic Sen. Claire McCaskill.

RELATED: Hannity And Coulter Blast 'Selfish Swine' Todd Akin For 'Hurting The Republican Party'
MSNBC host Alex Wagner said that, in her previous discussions with Tyler, she said that he had chosen an uphill battle by joining Gingrich's campaign. She said that he appeared to have doubled down on his support for underdog candidates with his support for Akin who she said is viewed as a "villain" by some in the Republican party.
"You know me, Alex, I'm going to go wherever the fight is," said Tyler. "If that puts me on the other end of the establishment, I think that's probably why you like me."
Wagner asked if Tyler agrees that Akin's comments about "legitimate rape" have endangered their prospects for flipping McCaskill's seat in November and limited the party's chances to retake the Senate. Tyler replied that this line of thinking is "baloney."
"I don't know why the [National Republican Senatorial Committee], but they have this ability year after year to say to their Senate candidates, you know, don't say anything significant," said Tyler. "We'll win if the economy can just keep tanking south and we have no real message – they'll just vote for us."
Wagner asked if the Republican party would engage in some introspection following the loss of Mitt Romney and Todd Akin about the tone of their politics and the candidates the party nominates for office.
Tyler replied that, if Obama wins and the GOP fails to retake the Senate, "I think that this Republican party will have to completely, utterly and totally revamp its thinking, its strategy, what it stands for, how it trains, what it speaks about, how it recruits and the total abandonment – actually the professionalization of the party – and the abandonment of the grassroots."
"If we lose the race, we only have ourselves to blame and I think there will be a revolution in the Republican party," Tyler concluded.
Watch the clip below via MSNBC:
> >Follow Noah Rothman (@Noah_C_Rothman) on Twitter
Have a tip we should know? tips@mediaite.com